UW-W amps up COVID-19 testing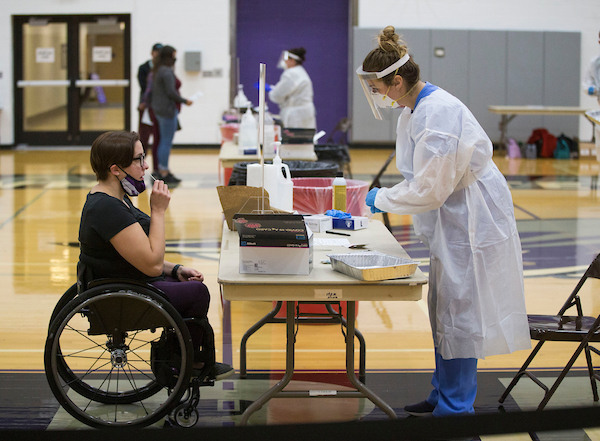 Along with the New Year, new ideas are arriving to help keep everyone safe. The university is approaching testing differently this spring semester than the last.
UW-Whitewater's new partnership with Weber Health Logistics boosted testing capability as students, faculty and staff returned to campus.
Rules for wearing a mask and socially distancing have not changed, however, the university plans to increase the amount of COVID-19 tests being performed. Students living in the dorms are asked to get tested once a week and all off-campus students, faculty and staff who come to campus be tested once every other week.
"UW-System has mandated that all campuses perform testing. At this point we have expressed it as an expectation of our students, staff and faculty to do so. We have not gone so far, as of yet, to mandate it," said Chief of Police Matthew Kiederlen.
The university's goal is to perform a total of 700 to 750 tests daily. The first week back did not meet those standards- it was much less than anticipated.
"The first week's numbers are of concern," said Kiederlen. "We are seeing about 300 a day."
The voluntary compliance during the first week of testing was low and if these numbers do not increase, testing can become mandatory. In the event that this does happen, it would be the decision of UW-System. UW-Whitewater is one of the few universities in the UW-System that did not mandate testing. But currently just two percent of the antigen tests are coming back positive.
"Typically we see five to ten positive tests a day," said project manager of Weber Health Logistics Michelle Gilbertson. "If someone tests positive for the antigen test, they'll get a secondary confirmatory PCR test."
According to Gilbertson, the university will not continue to offer community testing after Friday, Jan. 22. The location of testing has changed this semester as well. Participants are asked to schedule an appointment and fill out a COVID-19 online screening before arriving at the Hamilton Room inside the University Center. Those that are experiencing symptoms can also get tested at the Ambrose Health Center, but the center will not be testing asymptomatic individuals.
"This time around we are having people wait for their results. It was a request from the UW-System. So when someone is positive and they need that PCR test, they are here," said Director of University Health & Counseling Services Julie Martindale.
Individuals getting tested can expect the same overall process, however. Enter through one main door, sign in, get a nasal swab and wait for your results. If necessary get a PCR test and swipe your hawk card upon exiting. University Health & Counseling Services is also preparing for vaccinations in 2021.
"We're waiting to see if we get accepted to receive the vaccines next week. It is only a small quantity. It is only 50 doses for eligible groups," said Martindale. "We are also in the midst of planning a huge vaccination clinic and it would be for the community."
Keeping everyone safe is the reason behind these new testing regulations and vaccination plans for the future of a world with COVID-19. In order to get accurate testing results, the participation of all students, faculty and staff is needed. Testing continues to be top priority at the university, and vaccines are on the way.
For more information on the Warhawk Return plan, visit https://www.uww.edu/warhawks-return.