Women's tennis takes first D-III victory
The UW-W women's tennis team defeated Millikin (IL) Saturday, Feb. 27 earning their first victory this season playing a NCAA Division III team at Lake Geneva Tennis. 
The Warhawks (overall 1-3) beat Millikin 8-1 in the dual, winning five out of six doubles and all three singles matches. 
Highlights from the match included Bethany Marshall's first singles win as she battled hard in the first set and won easily in the second. Kellie Ha had her first singles win of the season and the Bigelow sisters won at No. 2 doubles. Paige Neerman's No. 1 singles play earned a win, and No. 1 pair Kasey Schlicht and Molly Reuth won their doubles match 8-3. 
"We had to overcome some struggles that were presented in the beginning of the match," said Schlicht. "The pace of play was much faster so we had to calm our nerves and play our game, adjusting to the new speed of play. It might not have been the prettiest match, but we were able to get the job done and secure the win."
The Warhawks had previously faced only scholarship programs, but still surrendered only seven games in doubles action on their way to a sweep.
"We got all twelve of our players involved. Nobody played both singles and doubles, so it allowed all twelve valuable match experience as we always try to develop all players' strengths," said head coach Frank Barnes.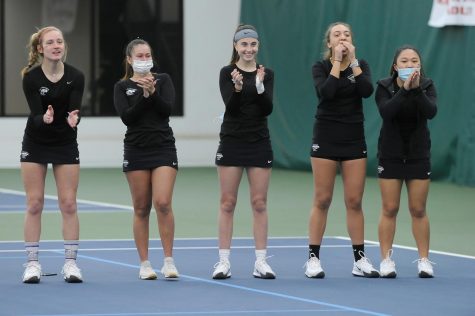 Having only played against scholarship programs in the past, the Warhawks appreciated the play against a Division III opponent.
"While this has been an untraditional year due to the pandemic, our team has still managed to put together a challenging and exciting match schedule for the spring. Our team has amazing depth this year and we should have great things in store," said Schlicht. 
The Warhawk women are anticipating their next match against Gustavus Adolphus Friday, March 5 at 2 p.m. in Winona, Minnesota at the Winona Tennis Center. 
"We started off the semester with some tough competition. With Gustavus being our longtime rival, we think we are now ready for that challenge," said assistant coach Grant Thompson. 
For more information on upcoming matches visit https://uwwsports.com/sports/womens-tennis.