Softball team finally sees the field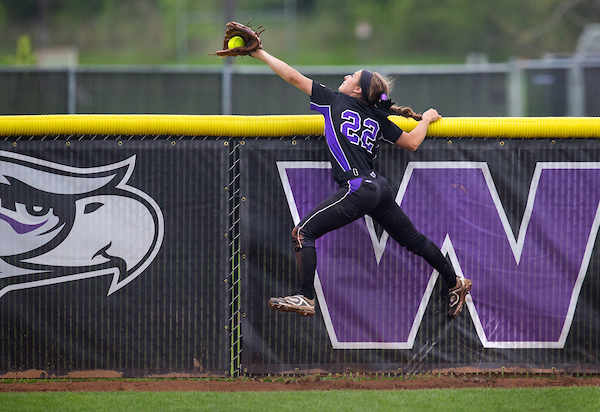 The UW-Whitewater softball team stepped out onto the field this past Thursday, Mar. 4 to play a scheduled game for the first time since 2019. They participated in the MMU Collegiate Slugger Series in Peoria, Illinois at the Louisville Slugger Sports Complex. Teams from around the Midwest faced off against one another, where Whitewater played a double header against the University of Dubuque and Carroll University. Whitewater split the two games defeating Dubuque 7-3, but falling to Carroll 1-7. 
The Warhawks kicked off the season against Dubuque in their first matchup of the night. Whitewater sent out freshman pitcher Kate Cleveland to the mound to get her first ever collegiate start.  After allowing an RBI double in the first inning, Cleveland settled down and would toss five straight scoreless innings. She was also aided in a big third inning by her Whitewater offense that saw five runs put up on the board.  
"We were able to discuss what the pitcher was throwing," said senior catcher Nikki Mikosz who launched two home runs and collected four RBI's in the win over Dubuque. "Our team also took advantage and swung at the right pitches, and it all worked out in our favor." 
Whitewater would tack on an extra run in the next two innings and hold on to that lead for the rest of the game. Cleveland would pitch a complete game only allowing one earned run with two unearned from an error, getting her the first win in her collegiate pitching career. 
"I am really proud of our freshman pitchers," said Mikosz. "Our pitching staff is unique and I think that they all complement each other." 
The second game of the double header pitted Whitewater against familiar foe Carroll University.  Another freshman would take the mound for Whitewater as Rhiann Dick would make her debut.  But 10 hits by the Carroll offense and two errors on Whitewater's side aided in the struggling performance in game two of the night. Off the bat in the first inning an error and wild pitch resulted in run scoring mistakes, and Whitewater fell down early with a 3-0 deficit to try and overcome.  
Whitewater did manage to pull within two runs after an error by Carroll shortstop Lauren Harshbarger resulted in a run scored by Sophia Kinje for Whitewater. This would be the one break caught by Whitewater as Carroll would take a commanding lead with a three-run homer by junior Kaylee Learman. This would be the end of freshman Rhiann Dick`s night after head coach Brenda Volk pulled her, and handed the rest of the game to the relief pitchers. For Carroll, veteran pitcher Amanda Osterhus threw a complete game only allowing two hits and the one unearned run.
"They have a well-rounded team, defensively, pitching wise and hitting too. Their pitcher moves the ball well and hits her spots," said senior third basemen Meg Cohrs.
Meg would go on to explain how it might not be so bad to face such good competition this early in the season.
"It was a nice challenge to have early in the season and we look forward to our double header against them in late March," she said. 
With the loss of the 2020 season due to the COVID-19 pandemic, the anticipation and excitement of coaches and players was obvious. Prior to Thursday night's games, coach Volk practically counted the days since her and the team had a chance to play a real game. 
"We are just super excited to get out and compete again, so the main thing we want from this team is just to be in the moment and really enjoy every minute of being together,"  said Volk. "It's been 660 days since our last game in 2019 and we are a completely different team than we were back then. I am just looking for this team to play hard, with no fear and just take one day at a time." 
Players too who missed out on playing last year, expressed their excitement as well.  Senior outfielder Vera Pflugradt expressed her disappointment with how last year ended.
"Our season getting canceled last spring was truly heartbreaking for all of us and definitely put things into perspective. Nothing is guaranteed​ which is why this year we're focusing on just having fun and soaking up all the memories we can," said Pflugradt.
Whitewater softball ended that 2019 season as Wisconsin Intercollegiate Athletic Conference (WIAC) champions and now has even higher hopes for the season ahead.