Reunited by a promise
The class of 1970 and 1971 return to campus to celebrate their 50-year reunion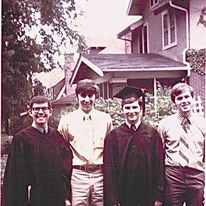 After losing a close fraternity brother earlier this year Alumni John Daly, class of '71 and Mike Doyle, class of '70 looked forward to reuniting for homecoming to honor their late friend's last wish. 
For current students, homecoming is a time to show off that Warhawk pride and celebrate with friends and the community. For returning alumni, it is a celebration of life and forever friendships. That is exactly what brings back Doyle and Daly after their good friend passed away.
"For the last number of years he was traveling the world with a backpack at the age of 70 plus. He was so committed to getting back to his roots. One of the last conversations I had with him he said, 'Daly find out about the Whitewater homecoming. What the dates are, I'm definitely going to be there. I need to see all our friends again' so when he passed away – my wife Linda brought it up – she said, 'are we going to fulfill his promise?'" 
Daly was committed to fulfilling the promise he made to his friend and connected with all their old friends to return for the 50-year reunion. 
With the various activities planned for all alumni, including campus tours, alumni Hospitality tents, the Warhawk parade, alumni tailgate lunch and the homecoming football game, there were about 96 registered guests. The reunion for the classes of 1970 and 1971 had about 50 graduates register plus their spouses, said Director of Alumni Relations Amy Oeding.
The alumni reflected on their celebrations as students, noting the differences between then and now. 
"When we were on campus there was no Perkins Stadium. There was a football field, reminded me of a high school football field, right behind the humanities building," said Doyle. "Before I thought, well let's see 'who can I see at this time and how can I do that,' and now I'm just sitting here thinking 'how far is that,' … It's a totally different mindset."
Some of their major concerns now is why does he care so much about parking and distance, Doyle joked. Of course, that group photo of everyone back together will make it worth it.
Both Daly and Doyle were members of Delta Sigma Phi, which no longer exists on campus. They shared an equal appreciation for their community and the university.
As a way of creating a more social and fun experience outside of the educational aspect of college, the men found this opportunity and joined the fraternity.
"That was the best thing I ever did. Not so much that it was a fraternity, but it was a group of people who really came together and had a strong belief in the service component but we also had a lot of fun," said Daly. "I still have very strong ties, emotionally as well as educationally, to the Whitewater campus."
Daly majored in social science and reading language arts and Doyle was a geography major and history minor. Both of them went into education. For 25 years Doyle practiced journalism and returned to the classroom teaching journalism and geography. Daly taught in Madison and later became assistant principal, principal and curriculum specialist in the central office. 
There are many memories they both shared, from Daly proposing to his wife Linda right on campus, to the house the men shared and even witnessing the burning of Old Main.
"It redefined friendship. I give the credit to the campus. There was a sense of community that was on the whitewater campus," said Daly.