Students rally for equal rights
Due to the pandemic UW-Whitewater's Black Student Union (BSU) has not been able to host a Unity Walk to stand against discrimination on campus in recent years. But Tuesday, April 5, after two long years, the BSU and the Whitewater Student Government (WSG) banded together in a simple yet powerful display that demonstrated the still ever-present fight for racial equality and unification of all students on campus. In the words of BSU President Keshawn Williams, the goal of the Unity Walk was to foster "unity, justice and awareness" on the UW-W campus by presenting a list of demands to the university. 
The walk saw several campus administrators gathering to show their support. Interim chancellor John Chenoweth, Vice Chancellor Artanya Wesley, Executive Director of University Housing Frank Bartlett, and others were just some of the prominent figures in the crowd. 
"University Housing has a very long and positive relationship with both WSG and BSU. This is not our first Unity Walk with staff on it, and I'm sure it won't be our last," said Director of Residence Life Terry Tumbarello. "I think anything we can do that raises awareness and gets issues at the forefront is a positive thing for the campus."  
After a march to and from the White Arts Alliance Building downtown, Williams listed six items BSU and WSG are calling for the university to address. 
The first demand mentioned was for UW-Whitewater to have a clearer and more effective way to deliver and display hate/bias protocols on campus, along with having easy-to-understand expectations for behaviors and a proactive process for mediation and clear consequences. Williams took this time to list experiences from students of color that were failed by the hate/bias protocol.
"On campus, experiences include an African American female student was attacked by two European white girls outside of the library. The university only sent out an email," said Williams. "Recently, a student was asked to remove her hijab in the library by campus police. In a residence hall, an African American male student was accused of selling marijuana because of the smell in the hall." 
Second, BSU and WSG asked the university to organize a mandatory, thorough training course every semester to emphasize an institutional commitment against racism and discrimination. They ask for this training to be taken by all incoming and current faculty, staff, administrators, campus police, and students to be delivered by diverse and non-UW-W faculty and staff.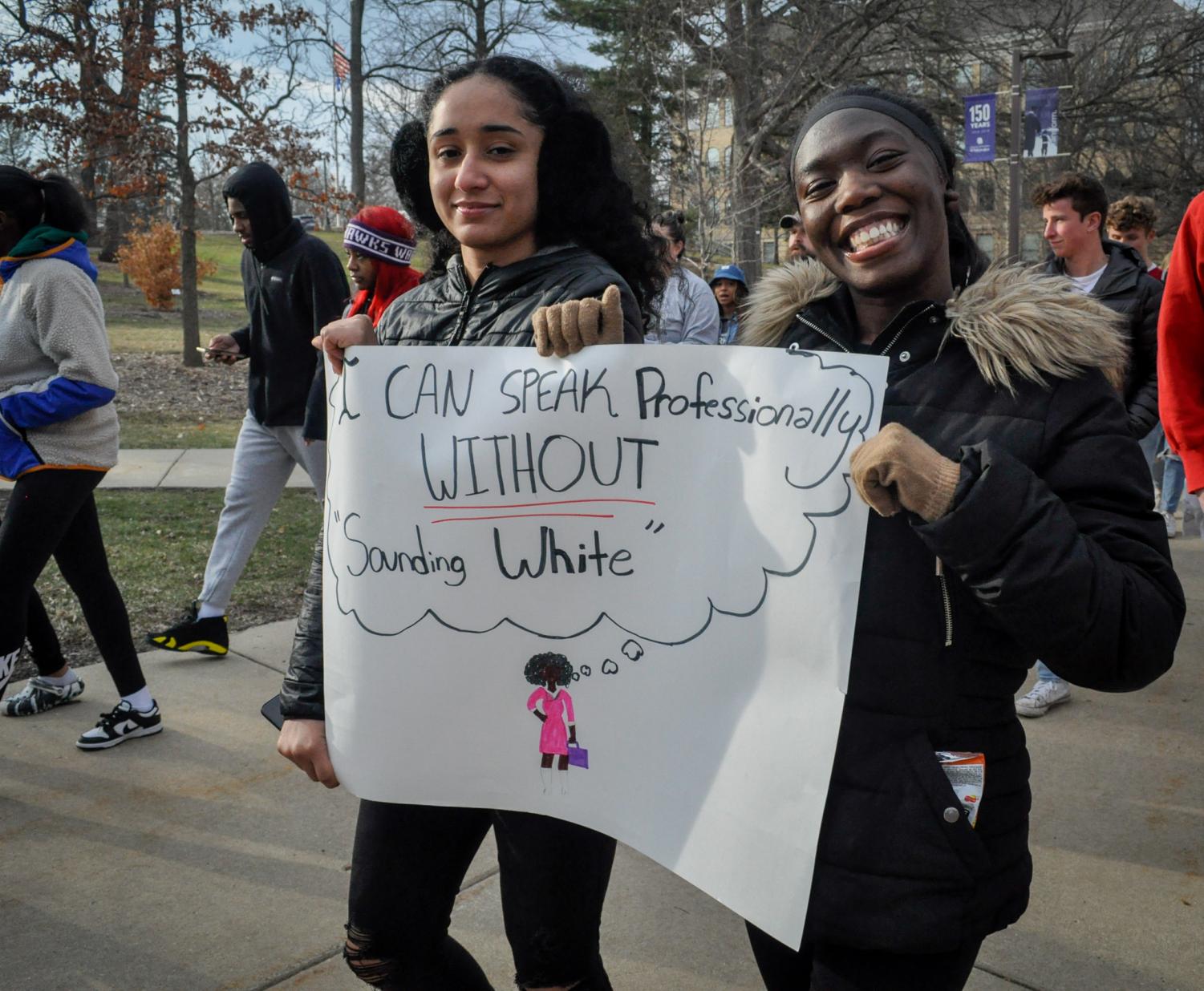 The third demand was to increase the representation of people of color in faculty, staff, and university employee positions on Whitewater's campus. Williams elaborated, "we are requesting more racially similar faculty and staff to provide relatability, mutuality, and a sense of comfort for our students."
Finally, the last three demands are as follows: To revive and support learning communities for minority students – particularly communities that share the same major; to identify the cause of the declining numbers of students of color with a clear plan of action toward the retention of these students; and higher recruitment of minority students primarily from urban communities. 
History has seen walks such as these working in favor of students. The University of Georgia had protests that helped to remove strict regulations for women on their campus in the 1960s. Even in areas closer to Whitewater, protests have made an impact at colleges in ways that benefited students of color. 
"The event reminds me of the very first rally we organized when I was an exec. board member of BSU during my undergrad years back at UW-Platteville. That was more than 20 years ago," Vice-Chancellor Wesley reminisced. "But through formal and informal conversations, with students right here on this campus – I have spoken to many black students at Whitewater – and they have described very similar experiences. The location may have been different, but the stories are the same. Many have expressed, here at Whitewater, frustration, fear, distrust, mistreatment, non-support, isolation, and a lack of a sense of belonging. When we talk about a sense of belonging for black students, it is our job to identify the issues and come together to address resolutions as a collective."
BSU has been able to see the university fulfill every demand mentioned at the previous Unity Walk, or are seeing them in the process of being addressed appropriately. One of the most visible of these being the renaming of Pulliam Hall.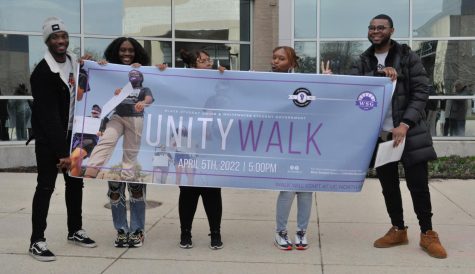 "We just renamed Starin Hall to Pulliam Hall," said BSU Treasurer Honey Cawthorn. "Everyday we get to correct somebody by telling them it's Pulliam Hall. The representation on this campus matters. You matter. Your black faces matter. Your voice matters. Every day you will be represented." 
Though it was only around eight hours into his first day in the position, Interim Chancellor Chenoweth verbally committed to meeting with BSU as soon as possible to walk through their demands and see that they are properly met. He stated that he intends for these to be done within a calendar year. 
"You need to make sure your voices are heard, and when you feel like they are not, you need to elevate them where you know they're getting heard," said Chenoweth. "I can't imagine a more important meeting to have at the end of the first day of a Chancellor's life… When you're in position to talk to leaders, it is important that they hear immediately. I am fortunate that the Unity Walk was today. And on the first day of the job, I can hear you."