'R U Purple?!'
Katie Popp, Assistant Campus News Editor
September 11, 2022
On September 5th, current students and staff  welcomed incoming freshman and transfer students into Perkins Stadium as a conclusion to Warhawk Welcome, a three-day program in which new students are introduced to life at Whitewater. By running through the visitor entrance and tunnel of peer mentors, Hawk Leaders, as well as other students and staff, and leaving through the home side. These new students are officially declared Warhawks.  
"My experience during this week was chaotic for sure," shares first-year student Sam Kopp.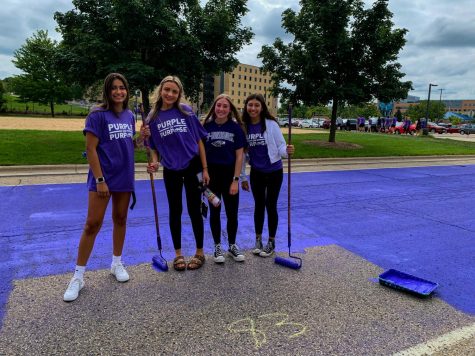 "However, a particular experience that stands out was probably just meeting the new people in my group, and developing relationships so you don't feel as alone, especially in classes." Being given the opportunity to meet similar students prior to classes beginning seemed to benefit every new student transitioning into life away from home, and one of the many highlights of the experience.
"I felt surrounded by people who cared about me being there, and wanted to help however they could to make this transition feel as easy and fun as possible," added Emily Mathison, a first-year education major from Omaha, Nebraska. 
Two days prior to the main event on September 5th, new first-year and transfer students officially moved into UW-W residence halls.
After checking-in, students received their assigned groups and a t-shirt to officially mark the beginning of Warhawk Welcome. Over the next two days, students were introduced to their new orientation groups, and given an inside view of daily life at Whitewater before classes began. With a presentation from Dear World (a program designed to promote
people's personal stories of growth, change, and perspectives of our world), students were able to share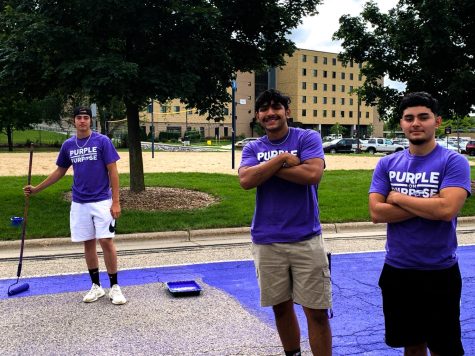 their story with one another, while moving forward at the same time. That night, Warhawk Drive welcomed the new students for information on campus and ways to get involved as well as live music. By the morning of September 5th, the newest members of the Warhawk community united as one to continue the yearly tradition of painting Warhawk Drive purple, one step closer to becoming official UW-W students.
According to Marie Hornickle, Assistant Director of First Year Experience, they "could not have asked for better." With this being the fifth year of the current Warhawk Welcome, attendance was high and the weather perfect for groups to be able to be outside and explore campus. Additionally, Hawk Leaders Ethan Wyland and Erin Bleicher shared their experiences over the past three years. Through guiding new students through their SOAR (student orientation, advising, and registration) over the summer and into the fall school year, Wyland hopes to "be able to be a person that can give a nervous high schooler a chance to experience life as a Warhawk."  Bleicher added if given the opportunity, any student should take it, as the program is full of great people who stay in touch. 
Before the official new Warhawks exited Perkins Stadium, they were asked one question by peer mentors, hawk leaders, and administrators who had gotten them to this point: "R U Purple?" With an outburst of cheering in the stands, Welcome Week 2022 came to a close. 
"I enjoyed the sense of community right from the beginning, and the experience allowed me to make more connections and friends as I navigate my way through these new times," concluded Mathison. 
To all new first-year and transfer students who officially call UW-W home, welcome to the Warhawk family!