Pinwheels for peace
The UW-Whitewater Psychology Club had their first group celebration of the International Day of Peace by creating and decorating their own pinwheels Tuesday, Sep 20, 2022. The idea was first thought of by Alexa Crary, who is in charge of Public Relations for the club. She suggested the idea as a way of representing the club's core values of creating a united front within the university.
"I remembered from elementary school art class making pinwheels for [International Day of Peace] and placing them outside the school," said Crary. "We then had a whole assembly that talked about how we could create a united front and a united community and I thought that would be a cool idea to bring to the Psych Club since that is one of our goals."
Those who attended were briefed by club leaders on the history behind the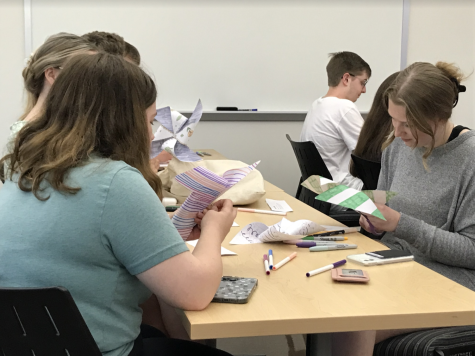 International Day of Peace before they were given supplies to construct their pinwheels. Everyone was then instructed to take two pencils, a pushpin, two paper pinwheels templates, and markers for decorating. Attendees then began decorating their pinwheels templates in everything from flowers, hearts, squiggles, polka-dots, and beyond.
"It was fun talking to new people, and seeing how creative everyone's designs were," said Junior Alyssa Schuyler, who recently started attending club meetings.    
Since its formation at Whitewater in 2015 by Dr. David Havas, the UW-W Psychology club has gone through some periods of activity and was also briefly defunct before a new eboard took over and started holding fundraisers for the club, and kept the club afloat during the pandemic. 
"They [the eboard] really kept the organization alive," said Faculty Advisor Dr. Thomas. "They held regular meetings over webex. They would do panels and presentations on various mental health topics, and it has been on Webex until now." 
The International Day of Peace was originally established in 1981 by the United Nations General Assembly who designated Sept 21 as "a day devoted to strengthening the ideals of peace by observing 24 hours of non-violence and cease fire," according to the United Nations website. 
Pinwheels for peace  is only one of many events the organization has is offering to its club members and anyone who is interested in joining this semester.
For more information on the UW-W Psychology Club, visit