Governor comes to campus
A 'heartfelt' visit with students
Wisconsin Governor Tony Evers visited the UW-Whitewater campus to have a roundtable discussion with student leaders the afternoon of Thursday, Sept. 29. The Whitewater Student Government and staff members led Evers to the University Center's Old Main Ballroom for a discussion about important issues facing UW-Whitewater. Afterwards, he was brought to the Warhawk Connection Center for a student meet and greet. He spoke with the Black Student Union, Latinos Unidos, LGBTQ, and many more organizations. The visit ended with a short walk to Winther Hall, an education building with classrooms for training future teachers that is in need of major renovations.
Evers shared some of his campaign promises to the group such as reproductive rights, gun reform and the legalization of marijuana. The students responded with some of their own concerns, including sustainability amongst universities, lack of funds and access to more health services. This visit was an important one for the campus and Evers.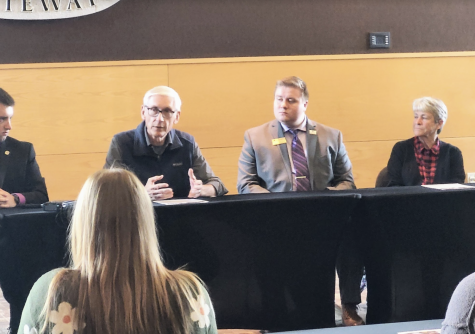 "It was heartfelt. They have such passion," said Evers. "Not that other campuses weren't, but this was a little smaller of a group and I think they felt a little more at ease talking about what they are concerned about – and what are really controversial things in some parts of our state and nation – whether it be issues on guns or LGBTQ questions. So, I just thought it was really heartfelt and quite impressive."
The Whitewater Student Government (WSG) worked with campus representatives to get the opportunity to have Evers visit. They were eager to see Evers come to the campus to hear the voices of students that are working for change. There is the hope that Evers' visit will help him better understand the experiences of the students.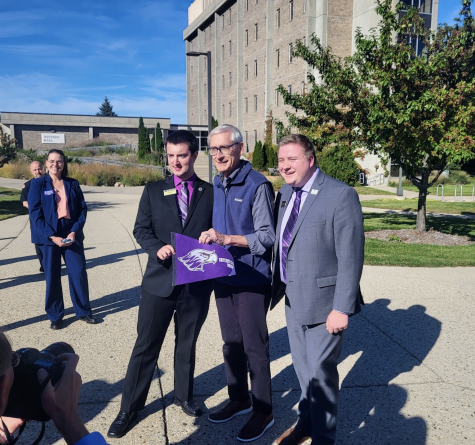 "We are hosting the governor, which is fantastic, so we get to talk about and highlight things that we are doing here at UW-Whitewater specifically around education and business. It is his first time here in a while and we're really excited to show him again and host him," said WSG President Will Hinz. "Students talked about their experience with the challenges they're facing, as well as the great things they enjoy here at UW-Whitewater. We have some student groups that we met, so he's getting a great perspective from current students about their experience." 
 The student organizations saw that someone such as Evers in his position in politics can bring more support and recognition to make the changes that are needed within the university.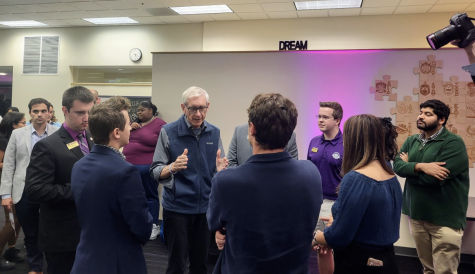 "I think it's a start. Especially with someone this high caliber coming down to Whitewater, and especially to the multicultural students struggling really badly right now." said program development specialist Aaron Broadwater. "To be able to speak with him about that helps get the ball rolling to get some support. And that is the one thing we lack – the resources to help the multicultural, students of color and members of the LGBTQ communities."
While the visit may have been a short one, it did not disappoint in terms of the impact it made on the students. Other than taking photos, the governor was also seen conversing amongst whoever approached him, ensuring he knew at least the name and major of each student.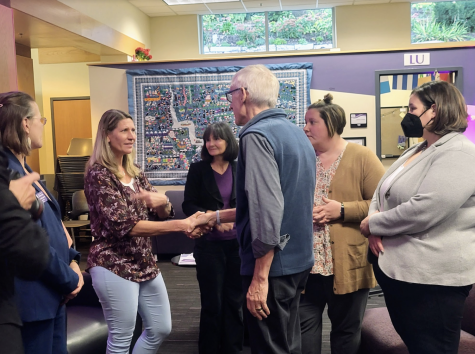 "I think the visit today was very impactful and I was so excited to see him spending time talking with students and really listening to students. They are the voice of our campus and our future and the whole reason why we're here. I think it had a very positive impact and I was glad to be a part of it," said Interim College of Education & Professional Studies Dean Lana Collet-Klingenberg. 
UW-Whitewater was the final stop for the governor after visiting campuses in both Green Bay and La Crosse. Evers concluded his trip with a message to students that no matter who they voted for, to go out and do so this Nov. 8 Election Day.