Hairstylists give back to hometown
The owners of  two local hair salons came in as a part of annual Study N' Style event at Anderson's library lower level. Staff from Underground Cutz and Botanica Beauty Parlour donated their time and skills to give students a chance to get their choice of any short cut style for free.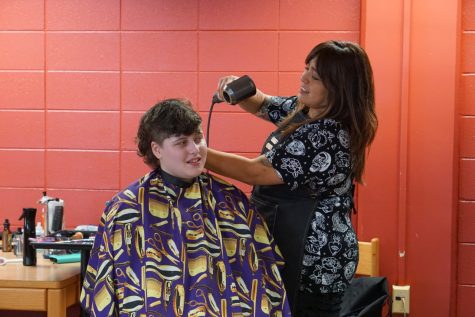 Underground Cuts owner Cesar and Whitewater native Mendoza opened up his shop in Whitewater 7 years ago in 2015 and has been going strong ever since. Mendoza first started cutting hair in 2010 when he was offered a job in Illinois where he was first taught the art of cutting hair.
"It's kind of a crazy story," said Mendoza. "I really had no experience and they were just like, 'don't worry we'll train you. So I just started from there." 
Mendoza then worked in Illinois for 5 years before going to barber school in 2012. He then decided to come back to his hometown of Whitewater and open his own barbershop, Underground Cutz in 2015. Since then Underground Cutz has been a staple in the community and was one of the fortunate businesses in the community that survived during the Covid-19 pandemic and gives credit to his loyal clientele.
"As crazy as it was, if you have clients like the ones that we do, you can get through anything," said Mendoza. 
Botanica Beauty Parlour is owned and operated by Jennifer Zamora. Zamora first got her apprentice license in 2004 before becoming a certified cosmetologist in 2006. She then worked as a stylist for 15 years until the pandemic hit causing the business to close. Much like Medoza, Zamora also made the decision to open her own beauty salon here in her hometown of Whitewater. A great joy of hers is in being able to give back to the community she grew up in.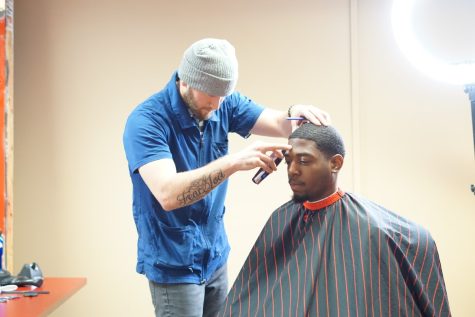 "I know just from growing up here that there is a need for students that maybe don't have cars or maybe can't financially afford haircuts," said Zemora.
The Study N' Style event has been a campus tradition for a decade in which different stylists from the local area have come to offer haircuts to students. Mendoza for Underground Cutz has been participating for 4 years and Zemora started off her first semester participating in the event. It is one of many events and programs that the Anderson Library has hosted. Outreach Coordinator Melissa Lopez hopes to do more in the future with all events within the library that continues to enrich students' campus experience and fulfills their needs.
"I think anytime you bring a service that students need closer to them it's super helpful," said Lopez.
It is a given that you may not always be able to look your best, but with hairstylists and Whitewater natives like Mendoza and Zemora donating their time and skills you can guarantee that you will look your best after visiting them for next semester's Study N Style. 
study