Basketball wins big against Olivet
Nick Walczak, Assistant Men's Sports Editor
December 11, 2022
The UW-Whitewater basketball team has bounced back in a big way. After losing three of their first seven games of the 2022 campaign, the Warhawks are now on a three-game winning streak thanks to skilled play and intense effort. 
The team's latest win came at home against Olivet College (Michigan) in an 83-67 contest, in which the team was propelled by their imposing offense and stout defense. The Warhawks had incredible offensive production from their starters, but the difference came from a number of their bench players stepping up in a big way.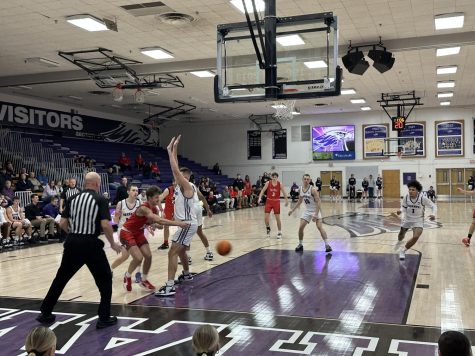 "I thought we had tremendous balance. We had five players in double figures, which I like to see. The M.O. of this team so far, has been different guys on different nights," said head coach Pat Miller. "We have a number of good players and I would like us to be consistent, but that just hasn't been the case… But overall, I thought it was a good team win."
The game's high scorer was 6'6" junior Trevon Chisolm, with 21 points. The Whitewater forward also had a game high nine rebounds, one short of a double-double. Chisolm went 7-9 from the field and hit both of his high-arching three-point attempts. 
Also getting in on the fun was sophomore Jameer Barker who poured in 17 points, junior Delvin Barnstable who put up 12, sophomore Carter Capstran with 11, and sophomore Drew Fisher added 10. 
Another one of the key factors in the Warhawk victory can be attributed to their aggressive post play, which led the team to the free throw line time and time again. Whitewater was fouled 27 times and shot 24-34 from the line. Olivet was only fouled 13 times and was only awarded seven total free throw attempts in which they made five. The smart and scrappy Whitewater defense also made it nearly impossible for Olivet to get open shots all game long.
"Olivet has two very good three-point shooters, Robinette and Johnson. A big key for us today was to not give them looks and to not let them get going. They went a combined 2-9 from the field. So, I thought defensively, on those two guys particularly, we did a really good job," said Miller.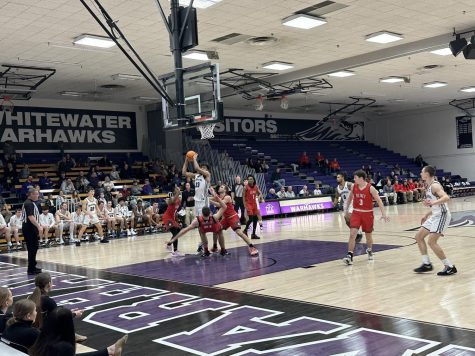 Whitewater will travel to Greenville University in Illinois to take on the Panthers before they head northwest to UW-River Falls at the end of the month for their holiday tournament.
"We always try to go somewhere, but because of Covid, airfare, and inflation costs, we opted not to fly or go south or west as we do at times. It was more of a budgetary thing," said Miller. "But these two games at the end of the month in the River Falls tournament will help us gear up for conference and once you get to that point, it's fast and furious."
These next three games mark the end of the non-conference portion of the season for the men. Whitewater looks to string together some more wins as they open up conference play against UW-Stevens Point Jan. 4 and play a home conference game at Kachel Gymnasium Jan. 7 against UW-Eau Claire.