A champion mindset on the mat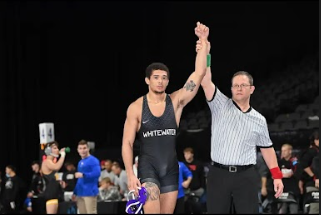 Ryan Baker, Men's Sports Assistant Editor
February 19, 2023
National Champion, WIAC wrestler of the year, two-time All-American, and multi-time conference champion. These are only just a few of the achievements that senior Jaritt Shinhoster has accumulated over the four years of wrestling for UW-Whitewater. With regionals and nationals just around the corner, Shinhoster looks to add to the already long list of hardware.
The 2022 National Champion at 184 pounds is riding the momentum like no other going into the conclusion of the season. At the Ken Kraft Midlands tournament, Shinhoster finished second in a DI dominated tournament. Taking down multiple top-20 ranked DI wrestlers as a DIII wrestler would normally be something that gets celebrated more, however for Shinhoster it wasn't about that.
"It felt good but it didn't feel good because I beat top 20 guys, it felt good because I won the match," said Shinhoster. "I'm at the point in my career where if you don't treat everyone the same, whether they're third string or a top ranked guy, you're not going to be as consistent when you compete. Overall, to me, it felt the same as beating a guy at any spot in any tournament."
Shinhoster has seen nothing but success in his college wrestling career, and rightfully so. He started wrestling when he was five years old, and his dad is a wrestling and football coach at his alma mater. He got locked into the sport in his high school years because of the team aspect, and he was starting to see his hard work come to the surface.
"My favorite moment was this high school Christmas tournament. It would be comparative to the Midland tournament, there are a lot of top ranked guys there. It was kind of my quote on quote breakout year," Shinhoster said. "Me placing top three in that tournament and beating kids that on paper I shouldn't have beaten. One match in particular, going into the third period I was down by six points, and I came back and won the match in overtime. That moment right there sold the sport for me."
The mindset began to develop for Shinhoster. A mindset that consists of getting to the top, getting the job done, and not changing for anyone. He wants to hoist the trophy again. It's the same this year as last year. Shinhoster doesn't spend any time thinking about what he has accomplished, rather he focuses on what he can accomplish. To him, overlooking someone, anyone is a mistake, but his confidence is never shaken.
"I think something that I do that a lot of athletes don't do or don't think about is envisioning my opponent in my match throughout the week. For example, you don't know who exactly you're going to wrestle in a tournament," Shinhoster said. "If you assume you are going to be in the finals you can get a good idea of who you are going to face. I always imagine that I'm in that match, taking him down, turning him, and even pinning him.
Currently that mindset has propelled and helped Shinhoster hold the number one ranking in all of DIII wrestling in his weight class. That was something that slightly bothered him early in his college career because of the pressure, but now as a senior it's more of an afterthought. He kept that ranking after taking home the conference title and helping his team finish second.
"It feels pretty good, especially after what happened at conference last year where we took fifth and only had one champ," said Shinhoster. "It was really embarrassing for the program in my opinion, and I think everyone who was a part of that embarrassment last year just wanted redemption. There's a lot of wrestlers that we had on our team that leveled up, and feel more in their groove. That makes me really excited and proud of them because they work so hard."
The next four weeks are going to be bittersweet for Shinhoster. Not only does he have a chance to be a repeat national champion, but it's also the last time he will compete competitively on the mat. To reach the ultimate goal for any college athlete, being that national champion, would be a great honor and would tie the bow neatly on a phenomenal career.
"To be able to achieve that once is a great honor, but Jordan Newman [previous two-time national champion] said the second one is always the hardest because you almost have to prove yourself," Shinhoster said. "If that happens, I'll feel great and even better because I won't have to do it a third time. I just have to stay focused for the next four weeks and we will see what happens but I'm going in pretty confident."
After putting in an unrivaled amount of work for his entire life, the adaptation of leaving something behind that was the only thing you knew can be extremely tough. However, Shinhoster doesn't plan on leaving the game behind completely. He plans on going into coaching and has been reached out to about GA assistantships that would also help pay for his MBA. It's just a matter of where he does that.
"Adapting to not being that guy or not competing will be a challenge for me, a little bit," Shinhoster said. "But if I can help someone, a wrestler, a young wrestler, freshman, and sophomore, whoever achieves their goals and help them get to the spot I am in right now then it'll be worth it. I'm looking forward to it more than anything."
Regionals take place Feb. 24 and 25 with nationals happening Mar. 10 and 11. All eyes will be on Shinhoster during those times to see if he can make history and end his career on top of the mountain. The pressure is on, but pressure is what molds that champion mindset. Jaritt Shinhoster has been a champion once before, and will look to be once again.