Basketball takes care of business
Warhawks secure 3 seed heading into WIAC tournament
The UW-Whitewater Men's Basketball (18-7,9-5), took care of business versus another conference opponent, the UW-Platteville Pioneers (14-11, 7-7), in an 82-62 victory. This win marks Whitewater's fifth win in their last five contests, with the only loss coming against a ranked opponent in the No. 13 UW-Oshkosh Titans. The win secured third place in the WIAC for the Warhawks, and clinched a berth in the postseason conference tournament.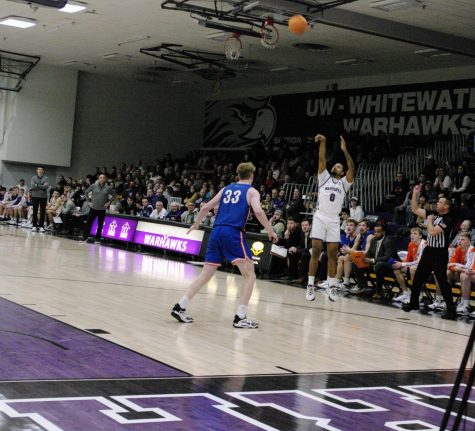 Whitewater got out to a hot start, holding an early 12-4 advantage. Miles Barnstable initiated the hot start, scoring 5 quick points to jumpstart Whitewater's offense. The first half was a high scoring battle that ended up being 43-35 in Whitewater's favor.
Miles Barnstable chipped in 10 points in the first half, and Trevon Chislom added 11. The second half was a stifling effort from the Warhawks, holding Platteville to only 27 points while putting up 39 of their own. 
In this game, Whitewater had large contributions from a number of players, such as Chislom. He contributed 22 points on a very efficient 8-10 shooting, and 6-7 from the free-throw line. In addition, Chislom made an impact on the other side of the ball, recording a block and altering numerous other low post shots. 
"He [Chislom] was very active defensively, not necessarily getting blocks, but altering shots, and making shots more difficult," head coach Pat Miller said. 
Chislom was far from the only Warhawk who contributed to this win on the offensive end. Miles Barnstable chipped in 19 points, while shooting 3-5 from 3-point range and 5-5 from the free-throw line. In addition, two other Warhawks were in double figures, Delvin Barnstable with 13 and Elijah Lambert with 12.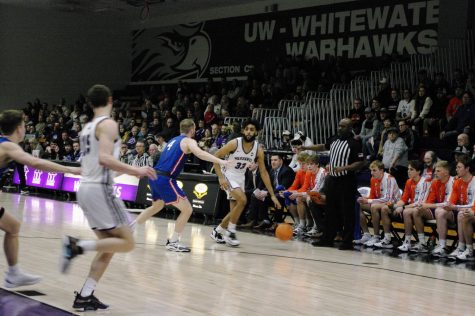 "I think our best teams are always when we have different scoring options, you can take advantage of different matchups, going into this game we felt like we could be effective getting the ball inside and scoring in the post, and Tre certainly did that," Miller said.
The Warhawks outscored Platteville in the paint, 44-34 throughout the game, proving their effectiveness at getting buckets around the rim. 
The defensive game plan for this game was simple: keep Platteville's three point shooting in check.
"We just felt like if we could keep them off the three-point line, they couldn't score enough from two to beat us," Miller said. 
Whitewater succeeded in keeping their three point shooting at bay, only allowing the Pioneers to shoot 3-18 (16%) for the game, and only 35% overall for the second half. 
For Platteville, it was an uphill battle from the tip. It was not made easier when their top scorer, Logan Pearson, got in foul trouble in the first half forcing him to sit for multiple extended periods of time. The foul trouble continued into the second half for Pearson, and he ended up fouling out and missed the last six minutes of play.
Pearson led Platteville in this effort with 17 points, Carter Lancaster added 8 points including two three pointers, and Bradley Neis added 8 points of his own.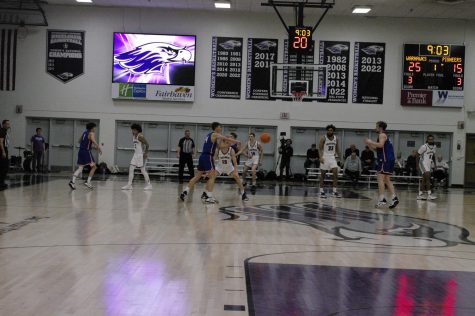 From here on out, playoff basketball begins for the Warhawks as this game was the regular season finale. In playoff basketball, the whole dynamic of the game changes, it slows down, and there are things that teams emphasize more in their game prep. 
"We have to be tighter. There were some points late in the game, probably at the six minute mark, where we threw a bad post entry from a bad angle, we threw a 40 foot pass, we took a quick shot we didn't need to. We have to be better at being solid, regardless of score," Miller said.
These little mistakes and tweaks will be made in practice this week, as the Warhawks gear up for a hopeful deep postseason run.
Next up for the Warhawks is the WIAC conference tournament. In round one the third seeded Warhawks will host the sixth seeded UW-River Falls Falcons Monday night in Kachel Gymnasium. Tip off is scheduled for 7 p.m. 
If the Warhawks beat the Falcons, they will head to UW-La Crosse to face the second seeded Eagles, tip off is scheduled for 7 p.m. Wednesday, Feb. 22.