Baseball leader looks to keep hot bat
Ryan Baker, Men's Sports Assistant Editor
March 5, 2023
Matt Korman has been a Warhawk for longer than most students at UW-Whitewater. He is entering his fifth season on the field for Warhawk baseball and he's hoping to continue doing what he was doing with the bat in Whitewater's playoff campaign.
The outfielder has played since he could swing a bat and chose baseball rather than football or basketball when he elected to come to UWW.
Q: Was there a moment you figured out baseball was your sport?
A: In high school all I was really thinking about was trying to be as active as I could be. I was playing sports, I was busy all year round. I got to a point in my junior year where I was playing at a higher level, I'd say select, program in the summer and I was having some success and I was playing pretty well. The guy that was running our team said "If you want to play college baseball, I will help you do that." He helped me out, got my name out there a little bit, that was when I bought into that whole process of playing college baseball.
Q: Last year you had a great run in regionals and super regionals, was there anything that flipped the switch for you or was everything just clicking?
A: I said this last year and I talked to coach Vodenlich about it. I think I was really close all year last year, then once it got to regional time it was a lot of confidence. Once you get to the playoffs it's do or die time so I think something of having that added pressure helped me out a little bit. I was seeing the ball really well and I've got to continue that all this year. It's funny, all my buddies on the team were calling me "Playoff Korman," kind of joke and they want that to be around all year so I think I have to dial that in. I know what I was doing at that point last year so I think this year it's going to be that whole way instead of just those last two weeks.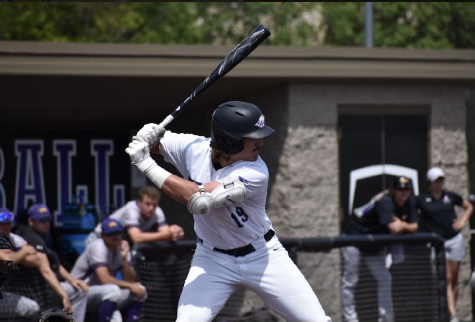 Q: Are there any moments, or roadblocks that you had to overcome in your baseball career?
A: This probably goes back to last year, if you asked people around me and maybe my family. That first month and a half, maybe through March and the middle of April last year I was struggling. I think I was one for like 30 and probably 25 strikeouts, I mean I couldn't hit water if I fell out of a boat, it was tough. It was a grind for me because I'd never really dealt with failure to that extent. Just consistently I couldn't get it going and never felt right. It took a lot of work and conversations with my mom, dad, brother, coach Vodenlich, our assistant coach Bartlein, and other people I played with in previous years reaching out to me to keep me positive. That first month and a half was the biggest roadblock, once I got past that I kind of turned it on and it shifted.
Q: What are your expectations for the team and for yourself this year?
A: As a team it's one pitch at a time, it's one out at a time, you know? We're not looking towards winning a conference championship right now, or a regional or a super regional right now. We've got to start focusing on that first pitch and first inning and game in Florida. That's our focus day to day, pitch by pitch, we're going to attack each day one day at a time and just go about it that way. Whatever comes from that approach is hopefully successful and that's going to happen. As for myself, I'm not going to put any expectations on myself. I think I've done that in years past and put too much pressure on myself to meet those expectations. I've said to our coach that I want to and I think I can get a hit every time but that's just not how baseball works. Anything that I can do to help our team win, whether that's play infield or outfield or sit on the bench being the best teammate I can be, if it helps us win that's what I'm going to do. 
Q: What is the mindset you try to implement to the younger guys as you come up on the season?
A: Just showing them that it takes time. Baseball is not an easy game by any means, there's a lot of failure that goes along with this game. Especially transitioning from high school where you might've been the best player on your team or in your conference in most cases, then you come to Whitewater and you're thrown into the bottom of the barrel in a sense. It's a process, the young guys have to understand that it takes time. Once you leave here or even by the end of your freshman year you're going to be a lot better than you were, that takes working hard and getting in the weight room, not taking anything for granted and learning from the upperclassmen. They just have to understand the process and go through it, once they get the hang of that, that's when a lot of guys come out of their shells and become really good baseball players. 
Q: Do you have any superstitions or traditions that are special to you?
A: If you ask some of the people around me they'll say I'm a big superstitious guy, I just like keeping things to a routine I'd say. I try to eat the same breakfast every gameday, it depends on the year. Sometimes it was a bagel from Sweet Spot, a double bacon and cheese, last year I figured it out once I started hitting the ball it was the sausage and egg McMuffin with a hashbrown and a large iced coffee from McDonalds. I have to figure out what it is this year. The one that stays consistent is I have an energy drink of some sort, gets me locked in and ready to go.
Korman says that he hopes to go on to be a high school social studies teacher and coach baseball, of course first he wants to help the team this season in any way he can. The Warhawks open play March 15 in Florida at the Studer's Blue Wahoo Challenge in Pensacola. The first home game is a double header versus UW-Eau Claire Saturday March 25 at noon.