Men's tennis conference streak going strong
On Friday, April 13 the UW-Whitewater Men's Tennis team faced off against two NJAC conference opponents, with clashes against UW-Stevens Point and UW-Eau Claire. The Warhawks were able to sweep both of their opponents, by scores of 9-0 in both matches, handley defeating the opponents in both singles and doubles matches. 
The Warhawks swept the doubles matches, 8-4 for No. 1 doubles and No. 3 doubles featuring John Zakowsi, Luke VanDonslear, Josh Guillermo, and Parker Sprague. Additionally, Payton Adkisson and Will Ulrich were victorious for the Warhawks in No. 2 doubles by a score of 8-2.
In singles, the team also swept the Pointers, with wins up and down the board.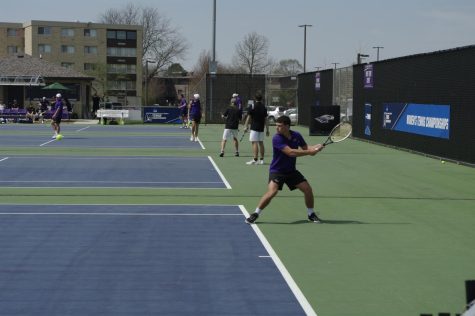 For the second of the dual match, the Warhawks had a challenge, as the Blugolds were considered the other top team in the conference, and would provide a challenge to the Warhawk's conference win streak that has lasted since 2007. Because of the amount of matches played, the team decided to rest a few of the top players, only having them play singles or doubles, rather than playing both.
Senior Cole Lindwall and freshman Tyler Nelson were two of these players, as they were playing No. 1 and No. 2 singles, and they usually play together on the No. 2 doubles teams as well. Lindwall, one of the more experienced players on the team, is no stranger to playing in tough situations, and neither is Nelson. Lindwall has been an impact player on the team for several years, and Nelson played in the winner take all match earlier in the season versus a ranked opponent Pomona College, winning the singles match to seal the deal. 
"I didn't feel any extra pressure, I've been in those situations before throughout my career, but it's definitely exciting to get to be the top guy for the day," Lindwall said.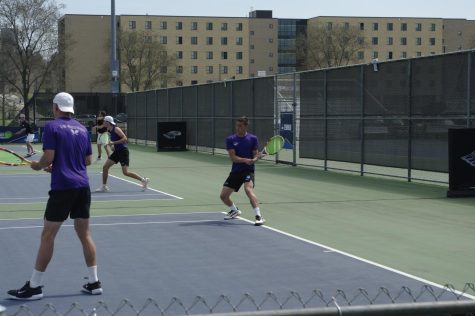 Head coach Frank Barnes used the match with Stevens Point to allow some of his younger players to gain valuable experience in a conference match, allowing many freshmen and sophomores to play in singles matches. 
"We were very disciplined, had a workman-like approach to the matches. We were favored at every spot, we were able to throw different guys in the lineup which was nice," Barnes said. 
In the match against Eau Claire, the competition was stiffer than against Stevens Point. Both No. 1 and No. 2 doubles were pushed in their matches, as they pulled out 8-6 victories. No. 3 doubles featuring Payton Adkisson and Josh Baldwin pulled out a convincing 8-0 victory. 
For singles in the matches versus the Blugolds, the dominant performance was put forth by Nelson, as he won his No. 4 singles match in straight sets, by scores of 6-3 and 6-0 for each set. Additionally, the Warhawks only lost one set combined in the six singles matches, with Will Ulrich pulling out a tight 5-7, 6-4, 10-4 victory in No. 5 singles. Both John Zakowski and Luke VanDonslear took care of business in doubles and singles, winning both of their matches on the day with relative ease. 
"Keeping a lot of balls in play, not getting too deep, he made quite a few errors, so I was just trying to work off of that," Nelson said.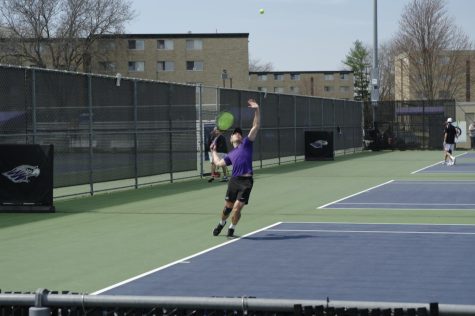 The Warhawks played their last home action on Saturday, April 15 in a hard fought 5-3 loss against No. 10 in the nation Gustavus Adolphus College (Minnesota). Their next action will be Friday, April 21 in an NJAC conference match against UW-La Crosse which is scheduled for 3 p.m.