The plant diversity of Latin America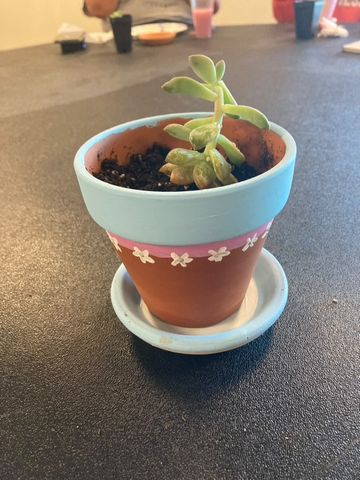 Katie Zee, Assistant Arts & Rec Editor
April 17, 2023
Did you know that there's a ton of interesting plant species in Latin America? On April 13, Latinos Unidos and the Sustainability Office worked together to create an event that was both informative and fun to explain all about plant diversity in Latin America.
While learning about these plants, attendees also got to plant a succulent and paint their own pot. Students could choose from a variety of acrylic paint and brushes. 
"Painting pots was what I needed today," said freshman Nate Burroughs. "It's an educational stress reliever."
Here's a rundown of the plants that were talked about: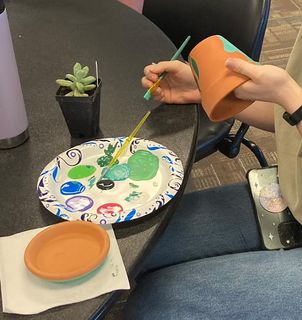 The Chupasangre Cactus was the first plant to be mentioned in the presentation. The fruit and roots of this spiky cactus are edible, and they have been traditionally eaten by the indigenous people of the Chubut Province in Argentina. Unfortunately, a lack of interest in these plants are causing them to be forgotten about.
The next plant is the Juçara Palm Heart from San Paulo, Brazil. This one doesn't need a lot to be able to grow, but it does need time. The tree takes about a decade before it can be extracted to use for many different purposes. The leaves are used for household furniture, the wood can be used to build homes, the berries make a great juice, and the palm heart can be eaten in a variety of ways. 
Moving on the Nalca from Southern Chile, this plant is similar to what we know as rhubarb. It has been around for a long time and has marked its place in traditional Chilean cuisine, specifically the Chilean curanto. The inedible leaves are used as wrapper, while the stalks are used as a snack or as an ingredient for jams.
The Red Frangipani is a beautiful flowering plant from Central and South America that draws you in with its fragrant smell. But, be careful because this plant is highly poisonous that is not meant to be touched or eaten!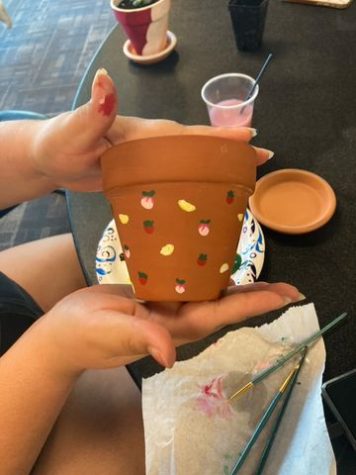 The Araguaney Tree is the national tree of Venezuela, and for good reason. It can reach up to 35 meters, or about 115 feet and its diameter can be 60 centimeters, or about 2 feet. This towering tree has bright yellow flowers that form in spherical clusters that almost look like pom-poms. 
The last plant talked about was the Christmas Orchid, the national flower of Colombia. The beautiful purple and white flower got its nickname from the time that it blooms, while its technical name of Cattleya Trianae comes from José Jerónimo Triana, a Colombian botanist known for cataloging thousands of plant species.
"I hope you all learned something tonight and had fun!" said Latinos Unidos secretary Haley Bjeda.