Professor Inspires
Community members, students laud professor's music performance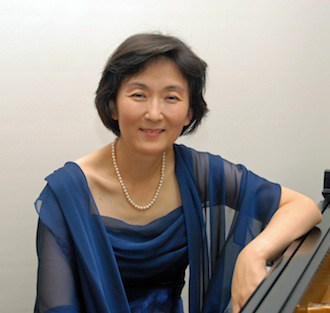 Dr. Myung Hee Chung began playing the piano at age four. At age 10, she won national competitions and was encouraged to study at Juilliard and the Manhattan School of Music.
The award-winning pianist who was born in South Korea and is a professor of music at the University of Wisconsin-Whitewater performed "The Romance of Rachmaninoff" for students and community members Sept. 16 in Light Recital Hall in the Center of the Arts.
Throughout her music career, Dr. Chung has performed around the world in Europe, Mexico and Asia. She has taught music at UW-W since 1995.
Junior Angela Jacoby, a music major who plays the saxophone, attended the concert in support of Dr. Chung.
"Just to see her perform and do what she does, we all know how phenomenal Dr. Chung is as a musician," Jacoby said.
Center of the Arts staff member senior Nathan Roley said he was "blown away" while working Dr. Chung's performance.
"It meant a lot to me," Roley said. "[It is] rewarding to see performances by our own professor, especially someone who is that fantastic. Like 'wow,' it just shows how much potential that we have."
Campus music events bring in students and community members most weekends.
Mona Mason, a Fort Atkinson resident and regular attendee of Sunday events at UW-W, said she was "thrilled" to see Dr. Chung perform.
"Dr. Chung-she is just an amazing talent to have that available and so close to us. Why, it's wonderful. I  t's a real treat," Mason said.
Dr. Chung preformed three different sets, each one featuring at least three pieces.   
The Light Recital Hall will host other music performances throughout the fall semester that are open to all students and community members.