A passion for dance hits UW-W
Mexican-American dance collective explores identity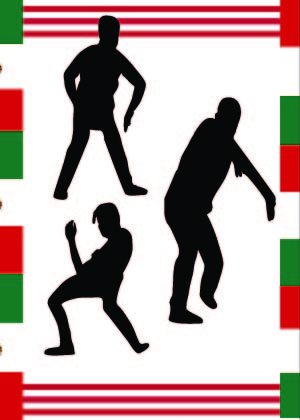 The Primera Generación Dance Collective brought sombreros, stereotypes, Sarah Huckabee Sanders and Selena to the dance studio Feb. 13 in the form of an eclectic, contemporary and postmodern dance.
The California-based dance group was formed by Rosa Rodriguez-Frazier, Irvin Gonzalez and Patty Huerta, who recently traveled to UW-Whitewater to join its fourth founder, Alfonso Cervera, a dance instructor on campus.
The group performed a combination of three of its works that focused on the 'visibilization' of the Mexican-American identity and its many marginalized communities.
"One of the words that we always use in our work to describe being Mexican-American is the Spanish word desmadre, which is usually used to denote that something is chaotic or messy, both good or bad," said Gonzalez.
To embody that chaos, the four dancers walked into the room wearing bright colored jumpsuits with solemn faces. A recording of Sarah Huckabee Sanders played in the background while another recording of children crying for their parents played simultaneously. It was a clear political statement about the Trump Administration.
"The word desmadre is something that has both positive and negative connotations. So being Mexican-American goes into that aspect of what it means to be marginalized in this country and the good and the bad that comes with that and reveling in it and exposing it within our work," Gonzalez said.
Within the performance they also quickly shifted into stereotypes by pouring chips and salsa into a sombrero, but they brought it back to reality by dancing to Selena Quintanilla, a Tejano music icon. 
The group met in graduate school at the University of California-Riverside, and together they quickly found a commonality in their experiences and in what they wanted to showcase in terms of art and using art as activism to do so.
Since then, they have created works that reflect cultural, social and political aspects of the Mexican-American experience. Despite focusing on the Mexican-American experience, they want everyone who has the chance to see them perform to reflect on their own identity.
"It's important that students and audience members are able to reflect on what their own culture is and how they are being classified in society," said Rodriguez-Frazier. "And if they are artists, how they can use their culture and how they identify to build work."