Making a splash
Sophomore swimmer ready to compete in 2021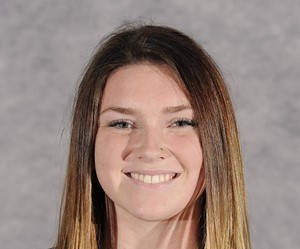 Leanne Stigler feels like a fish out of water. She can't wait to get back in the pool to compete with her family of a team. And there may be hope for some competition after December 31 with the Wisconsin Intercollegiate Athletic Competition on hold until then. Stigler showed a ton of potential and success in her freshman season for the women's team. Now she's looking to dive deep into her athletic career at UW-Whitewater.
What made you choose to come swim and go to school at UW-Whitewater?
It was actually the team, it is such a family kind of a team. They do everything together and it makes me feel at home. My brother also went here, so it was easier for me to see what kind of family it was like.
What are the main events you compete in?
I compete in the 100 yard breaststroke and 200 IM.
How did it feel to win WIAC Kwik Trip Athlete of the Week last season?
I actually felt like it was really cool and I was really excited about it. It was something I have never won before, so that was really cool, and I was really honored to get it.
What was your reaction to getting close times in events to the fastest in school history as a Freshman last year?
That was really cool and it was something that I wasn't expecting at all. My team really motivates me and pushes me to work hard, so it was really a group effort to get me there honestly.
What is the plan for the upcoming season, I know there is a suspension on the season until December 31st, but any updates?
We actually started practicing this past Monday, so we are swimming now about four to five days in the week. Though we aren't going to have any meets until January at the earliest.
What are your goals for the next time you all compete?
I guess it would be for us to just lower our times. I love how we always get behind each other, and cheer each other on, and go crazy cheering haha. That is always an awesome thing we do, so I hope we keep that up as well.
What have you been doing to stay ready if hopefully a season happens in January?
Well we are going to keep practicing and lifting. Then we just got to hope for the best.
What has been your favorite part about being on the Women's Swim team here at UW-Whitewater?
Again it would be the family part of the team, like how we all back each other up and are there for one another. Even incoming freshmen, we make to include them, it is just a really good feeling to be on the team.
Stigler is a very humbled and team-first athlete, which are the qualities to hopefully help lead to another successful season for herself and her teammates. The UW-W Women's Swimming and Diving Team will practice hard, hoping to make a big splash come January of 2021.