Soccer success
Hard working student athlete gives insight on her time at UW-Whitewater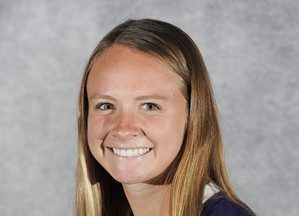 Katy Kusswurm is a soccer player who earned much success over the past three seasons on Whitewater's Women's Soccer team. Kusswurm discusses how far she has come since starting her soccer career, which made her a household name in receiving honors and recognition both on and off the field.
How long have you been playing soccer for?
I have played soccer since I was 3 years old. So around 18 years now.​
What has been your favorite part about the process soccer has brought for you over the years?
My favorite part about the soccer process would be the people I have met through it. I have met lifelong friends throughout my soccer career.
What made you decide to come to Whitewater for school and soccer?
I actually didn't look at a lot of schools for soccer. I was not sure if I was going to play at the college level or not. I came to one game my senior year of high school and got to hang out in the locker room with the team, and saw I could definitely see myself there. After a few visits and meetings with the coaches, I made the decision to go here and it was the best decision I have ever made. 
What's your main position been on the soccer team at Whitewater, and how would you explain how your position works?
I came into the program as a center midfielder, but got switched to an outside back during my sophomore season, two completely different positions. As an outside back, I run a lot. My position isn't set up to score goals but to set my teammates up for those opportunities. 
How did it feel to get recognized for Academic All American 2nd team this past season?
It was really cool to be honored as an Academic All American. Getting any award for soccer is amazing, but being recognized in the classroom as well is very rewarding. I work really hard to perform well in the classroom, and to be recognized for it was very, very special to me. 
To follow that, how has it felt to receive many other recognitions for playing soccer, as did it feel as if all your hard work over the years paid off? 
Yes, I feel like my hard work has paid off. Being a student athlete is definitely not easy, so I am very grateful to be recognized for these achievements. I couldn't have done it without the help of my coaches and teammates. I owe a lot of my success to them. 
What has been your favorite memory of playing at Whitewater?
My favorite memory would be when we won the conference championship last season in 2019. Our 2019 team overcame so many different challenges throughout the soccer season that winning that game against Lacrosse was super special. I think that was the best moment in my whole soccer career.
What does the future hold for you now being a senior?
I was originally supposed to graduate in December 2020, but Covid had me change my plans a little. I took this fall semester off, in hopes to play a few nontraditional games in the spring and graduate in May. I have also looked into the possibility of staying for fall 2021. I have been working with my coaches and athletic administrators to come up with a plan on how that would work, so I have a decision to make. After Whitewater, I plan on attending pharmacy school and becoming a pharmacist. 
With the difficulty of Covid-19, some changes needed to be made for Kusswurm to finish her career and degree in a different direction than most. Kusswurm's dedication made her the heart and soul for the women's soccer team over the past few years, and fans hope to see her back in action in the near future to finish her senior season.