University tightens belt on budget
Pandemic, lower enrollment put squeeze on programs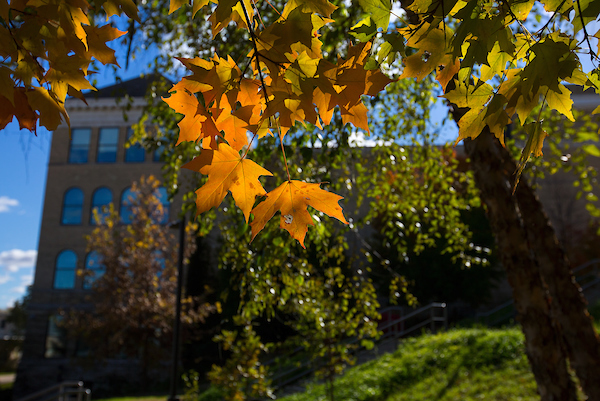 UW-Whitewater will be cutting back on expenses for the foreseeable future while also looking for revenue growth opportunities.
Chancellor Dwight Watson and university leadership hosted a town hall meeting Oct. 22 to discuss the university's current budget situation and strategies to move forward.
COVID-19 and enrollment decline are often discussed in town halls, but the financial impact was largely an enigma. The meeting explained what these challenges now mean for the future of the campus.
Broader implications from the end of Fiscal Year 20 and Fiscal Year 21 were detailed. During FY20, UW-Whitewater experienced three major impacts mostly due to COVID-19.
"We had a $2.2 million loss in state support. We had about $7.9 million in lost net revenue, and we had about $500,000 in COVID supplies," said Interim Vice Chancellor of Administrative Affairs Taryn Carothers. "Why that number is only 7.9 is because of the great effort across this campus to mitigate and reduce costs as best we can."
Members of the panel all chimed in to illustrate a new 5-year fiscal plan with its culmination at the end of fiscal year 2025. Although revenue and unbudgeted costs are hard to predict with so many changes happening, other things such as expenses can be more accurately accounted for.
According to the financial outlook, the net cash flows for the fiscal years of 2024 and 2025 are expected to both be in excess of $20 million. During FY25, there is expected to be a significant cut in expenses compared to previous years. However, the financial outlook is built on many assumptions, which could complicate future plans. Some of the assumptions include no lingering COVID impacts after May 2021, no significant changes in retention from Fall 2020 to Spring 2021.
"We're trying to be as transparent as possible…but things could get worse if some of those assumptions become invalid," said Watson.
Watson set forth a list of ideas to cut costs, as well as to help generate more revenue.
Ideas to cut costs included optimizing investments, addressing operational costs, freezing vacancies and more.
The panel also introduced strategies to generate more revenue, which included an increase in certain tuition rates, an increase in housing and dining rates, and launching new academic degrees. Watson encouraged the campus to offer ideas of their own.
"These ideas are things that we will begin to implement, but to implement them we will need your input," Watson said.
The campus had the opportunity to ask questions, which included specifics on budget projections, furloughs and student work opportunities.
"When we went to furloughs we said it was a temporary piece. It is not the strategy for structural changes. We have to have a permanent structural change. When it comes to layoffs – yes there will be layoffs," said Watson.
Watson was also asked if student workers and graduate assistants should be prepared to be let go.
"We want to work very closely with our students," said Watson. "We do have money on the books to pay for our student workers and graduate assistants, and we do have money that goes beyond that. We want to look very closely at the student workers and how we are utilizing them this year and whether some of the jobs can be eliminated."
Investments to attract more students to the university are also being included in the budget.
"We're going to have to review all these strategies. We have anticipated a good turn-out with those investments – enough that it justifies continuing those expenses," said Interim Provost Greg Cook.
Getting into the details of implementing the proposed budget will be decided in the coming months.
Upcoming town halls will talk specifically about each strategy to generate more revenue and cut costs. University leadership hope to receive more campus input and encourage new ideas about best to meet the budget goals.