Digging Deep
Outside hitter Chloe Buescher stands out on the volleyball court
Chloe Buescher is a sophomore here at UW-Whitewater, and she is a promising athlete for the UW-Whitewater Women's volleyball team. She put together a standout season last year leading the team in kills with 300, and ranking fifth in the Wisconsin Intercollegiate Athletic Conference (WIAC). Now, in an interview with the Royal Purple, we're digging deep into Buescher's career, and what makes her the standout player that she is.
What made you choose Whitewater?
"I chose whitewater because when I came in, I really meshed with the team, and it just felt comfortable. And the education system here is really well-known, so it just kind of fit with what I was looking for."
How did you get into volleyball?
"I started playing volleyball for my school starting in middle school. I really started getting into it in high school. I was actually more interested in cross country at first, but then my parents told me I should try it out because I had the height and stuff. So I ended up trying it and falling in love with it."
I hear you won WIAC Newcomer of the Year last season. How does that feel?
"I was surprised because there were so many good players that year, and I know there were other people that could have won it. But I was honored to be chosen, especially because I know that so many other people could have been."
How did that season overall feel/mean to you?
"It was pretty nerve-wracking, But we had a good team, and we had a lot of girls that stepped up and wanted to prove themselves, and we came out there and did really well."
How does it feel to accomplish all that in only your first season?
"I have high expectations for our following seasons. I'm hopeful that we make it to the tournament this season and kind of pick up where we left off."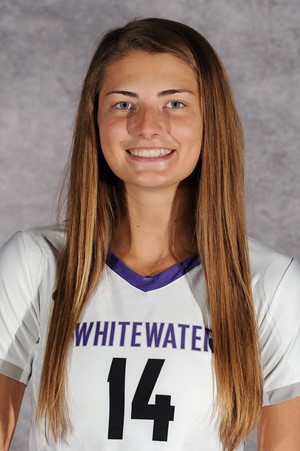 How have things changed with the current state of the world?
"We can't be around each other as much, but we're still putting in a bunch of work. We do have team practices, and now we can get to work together. So yeah, despite everything, it's a good opportunity to improve and get better"
What is the best part about your experience on the UW-Whitewater Women's Volleyball team? 
"Probably my teammates, and having that close-knit group of girls. It's that thing, when you're coming into college and you have to find friends, so when the team feels like family the way we do, it makes things just that much better."
Buescher is a dedicated athlete and student, with high expectations for the future. She and the rest of the UW-Whitewater Women's Volleyball team will continue to work to improve their game, taking the organization to a higher level once the season commences.