Olivia Theobald is swimming life in the fast lane
Nay Salter, Assistant Sports Editor
January 17, 2021
Two-time WIAC Kwik Trip Athlete of the Week, Olivia Theobald continues to have a memorable experience as a senior distance swimmer of the UW-W Women's Swimming and Diving team. She has swam many personal bests throughout her career at Whitewater and she has made the most of every moment swimming with her teammates. Not only is she a shark in the water, she has also received awards outside of the pool such as being College Swimming Women's Swimmer of the Week and being on the WIAC Scholastic Honor Roll multiple times. She is a very dedicated swimmer, and can't wait to see what the future holds for her. 
When did you start swimming and what inspired you to start? 
I started swimming when I was six-years-old, I had always loved being in the water and so I tried out for club swimming.
Why did you choose Whitewater to pursue swimming?
I chose Whitewater because I liked the Communication Sciences program here (my major) and I loved the team atmosphere. I committed after my recruiting trip because I knew this is where I wanted to spend my next four years.
Is there any moment in your entire swimming career that stands out to you? Any moment that kind of made you realize what you are capable of? 
I think that a moment that stands out to me was freshman year conference. I anchored the 200-medley relay. We took first and I went a time that I didn't believe was real. I remember walking up to my coach and saying, "The board's not working. What's my real time?"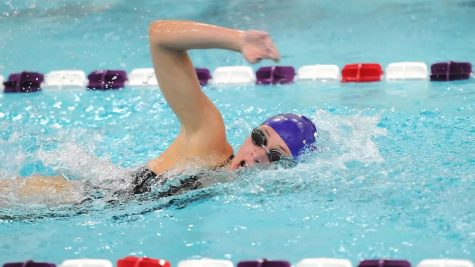 Out of all your personal awards/personal bests, which one is your favorite?
I was really proud of my performance last year at conference in the 500 freestyle. I had had mono in December and it really took a toll on my training. However, I went a best time and placed third with a best time. 
I know you spend most time in the water, but do you prefer swimming in the pool or doing dryland workouts? 
I prefer swimming in the pool. I joke that I am the most unathletic athlete I know because I am so bad at weights and drylands. 
Out of all the meets (that you can remember) which one is your favorite?
Last year's conference was my favorite meet. I was just really excited to swim with the team and I was happy with my performances. The energy at conferences is my favorite part and it's hard to pick a favorite, but those meets are memories I'll hold onto forever. 
How do you think you will do this upcoming season? Do you think this season will be different from the rest? 
This season has been a struggle for a lot of us. We are trying to keep our hopes up, but it is hard as this season is so different. We most likely will not have a conference meet due to COVID restrictions so we are hoping to have a few dual meets.