Women's tennis captures WIAC Championship trophy
With championship season at large, the women's tennis team competed in the WIAC Championships and pulled another win automatically qualifying the team to compete in the NCAA tournament. They competed against UW-Stevens Point for the semi finals and won 5-0 and competed against UW-Lacrosse for the finals and won 5-1. 
The Warhawks competed in many tournaments this season and were excited to have the opportunity to compete in the WIAC championships this weekend. Going into the meet determined to meet their one goal, to win conference championships, they went into the tournament(s) this weekend with a positive attitude and game faces ready to take on whatever came their way.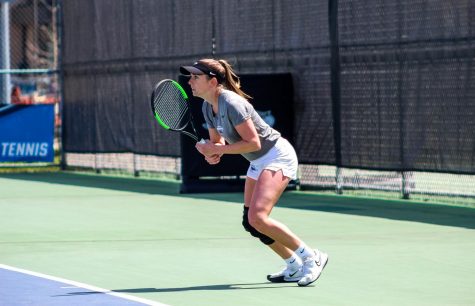 "I think the coaching staff and the players took a similar approach. We were confident because we have beaten these teams in the regular season and we also knew they were dangerous. If we took anything for granted or fell asleep these teams would have beaten us so I think we took a good mental approach and took it very seriously," said head coach Frank Barnes. 
The Warhawks first competed in the semi finals against UW-Stevens Point and knew that they had to be strategic in order to win and move onto the finals. The Warhawks, already having a winning streak of 10 prior to the championships were motivated to pull another win. The singles competition had the Warhawks on their toes with their being four unfinished matches meaning four tie-breaker plays, but the Warhawks stuck it out and won all of the singles games. The doubles competition happened to be just as competitive. Highlights from the doubles competition include Paige Nierman and Olivia Kraft won their game 8-1 and Molly Rueth and Courtney Day won their match 8-0.
"One thing that I have learned throughout conference play this year is to really be patient. Coming into the championship, I knew I had to wait for the right balls to put away and not force winners. Being aggressive works best in doubles for me, whereas I like to stay steady during singles," said junior Olivia Kraft.
Winning the semi finals the Warhawks made it to the finals and competed against UW-Lacrosse and won overall 5-1. The Warhawks already played the day before the finals, but they continued to work hard and play with their all leading them to win the finals. As competitive as the Warhawks were, UW-Lacrosse went into the match just as ready to win which led the Warhawks to have some real competition. The singles games had a total of three tie-break plays and other highlights include Sabrina Palavra and Lauren Witt won their game 6-1, 6-0 and Jessica Minkov and Susi Hu ended their intense set with a score of 7-5, 1-0.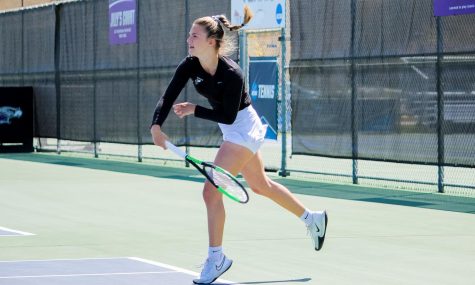 "We've been working very hard playing everyday and doing our workouts and working with our strength and conditioning coach. I think that's been really helping us as well. Just playing a lot of matches and we had a really great season that our coach put together with a lot of matches we were able to play and good opponents so we were definitely ready for this one," said junior Molly Rueth.
The Warhawks are filled with excitement knowing that they won the WIAC championships and will have another opportunity to play in the NCAA tournament. Their first three rounds are held on May 14 -May 16 and if they win they will move onto the final rounds on May 24 – May 26.