Businesses welcome back Warhawks
The Book Teller offers a variety of locally made goods for students and citizens alike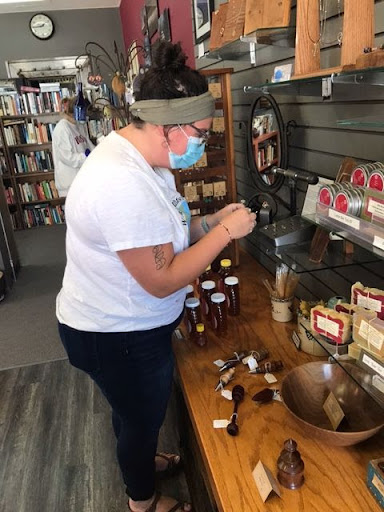 When heading down the streets of Whitewater, The Book Teller from first glance might look like any ordinary small town bookstore. But, that is where you would be mistaken. At the business owned by UW-W alum Karen McCullen, who majored in Theater and English, you will find a treasure trove of locally made goods.  
On the right wall of the store, you will find a beautiful display of Bower's Lake Coffee. It's a locally roasted coffee by Dave and Annette Jones. Dave is a veteran, and donates a percentage of the proceeds to the local veteran's organizations and Wounded Warriors.
Above the coffee, is a beautiful handcrafted tea set created by Mike Kern and Shandra Dorske, who both graduated from UW-Whitewater with degrees in Fine Arts. 
On a corner counter, patrons will find Kettle Moraine Honey, as well as a plethora of soap, lotion, and lip balm made by the same owners Doug and Deana Grall. Doug also specializes in wood turning, showcasing a variety of handsome wooden utensils and bowels.  
In yet another corner is a display of handmaid fine art wool scarves made by Jodie Janovec, who relies both sustainability and creativity on her beautiful creations.   
Among the other local vendors, McCullen also sells her own handcrafted jewelry on top of the many books she sells. 
After a tour of all the vendors, Royal Purple asked how business was doing since more students were able to come back to campus. 
"Business is definitely picking up. We are remaining cautiously optimistic," said McCullen. "The students bring so much life. We are so happy that they are back."