Boie brings home the Tokyo gold
2021 Summer Tokyo Paralympics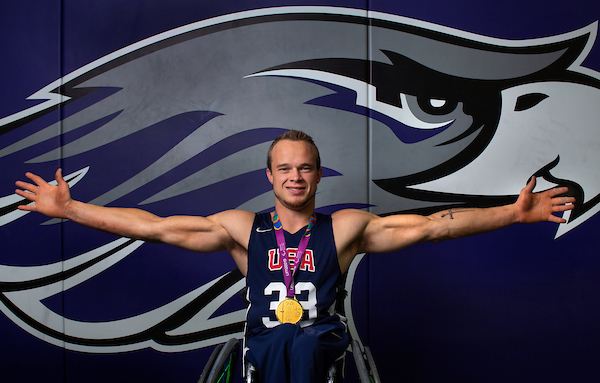 Former Warhawk and one time gold medalist John Boie got the amazing opportunity to compete in the 2021 Summer Tokyo Paralympics. He competed in wheelchair basketball along with his peers and had an experience of a lifetime. He left the Paralympics with a big gold medal and an even bigger smile knowing that he had given it his all and had been given the best reward for all of his hard work. 
Boie started playing wheelchair basketball at the age of 11. He played with his able-bodied peers which made him begin to love the sport. He knew that wheelchair basketball was the sport for him after he attended the University of Wisconsin – Whitewater's basketball camp. Very shortly after the camp he fell in love with the sport and knew it was something he wanted to pursue. 
"I mean growing up I always played sports against my able-bodied peers and in my first wheelchair basketball game I got to play with people with similar disabilities and it was eye opening and it was something I was good at so it was fun right away. You know to play against people on a similar level you know pushing through grass and mud and all that stuff," said Boie. 
Boie chose to pursue his basketball career here at UW-Whitewater because according to sports fans and himself,  UW-W is the Duke or Kentucky for wheelchair basketball. He knew that if he wanted to take his career even farther, this was the right place to do that. He got the chance to play wheelchair basketball here at UWW with some of his lifelong friends and got to play with an amazing national team. 
"It's kind of a premier school if you wanna play professionally or nationally. It's kind of the place to go. Besides it being right in my backyard, this was an easy choice to kind of go and be a part of the best national team," said Boie. 
Competing in the Paralympics was one of the biggest highlights on Boie's life. This was his first time ever competing in the Paralympics and he managed to cop a gold medal. He may not have had anything to compare it to, but he knew in his heart that he competed amazingly. One of the best parts of competing in the Paralympics for Boie was the fact that he got to wear the USA letters on his chest and represent UWW, his home town, and his country and he got to play with some of the best wheelchair basketball players in the world. 
"I mean I definitely appreciated the support. In Tokyo there weren't a lot of fans because of COVID, but it was really heartwarming to come out of the game and go to my phone and to have what felt like eight million notifications of all the fans from back home that were watching online or watching like on NBC or at home or their local bar or whatever to see all those messages from people that were supporting us from back home," said Boie. 
Boie will continue to remember his gold winning game at the 2020 Tokyo Paralympics and will continue to play wheelchair basketball with his peers.