She Kills Monsters: A story of calculated combat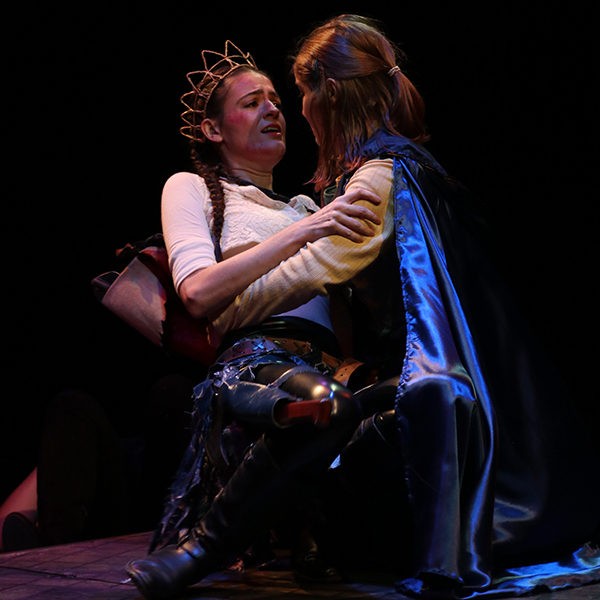 Sydney Wojcik, Assistant Editor of Arts and Recreation
November 14, 2021
Dungeons and Dragons, the famous role playing game created for people to connect around the world through the use of sorcery and strategy to conquer using the imagination, will be brought to life at UW-Whitewater's Hicklin Studio Theatre Nov. 15-19 at 7:30 p.m. and Nov. 20-21 at 2 p.m. Students will be performing the famous 2011 play, She Kills Monsters by playwright Qui Nguyen, which will be directed by Sara Griffin.
Swords, axes and magical effects, oh my! The performance will certainly not be lacking in the amount of combat and action scenes it holds as professional fight choreographer, Constance Swan, was brought in to fill the moments of battle with pure excitement. Her level of dedication to the students will be on full display as the actors are sure to show the audience the skill set they acquired through the lessons she provided regarding how to properly handle the stage weapons. Mystical moments are guaranteed to bring the characters to life as the production team took over creative control in regards to designing the sets and special effects, surely bringing a show stopping new take on the piece. Similarly, the costume design for the show, created by Lydia Oestreich, pieced together the ensembles in order to bring their liveliness to a new level and enhance the experience beyond anyone's expectations. 
"The costumes for She Kills Monsters helps the actors remain in character and also helps the audience to understand some of what is going on in the world of the play. If a character is in a specific costume it's because they are a monster or an adventurer or even just a student. It supports the world of the play and allows for our actors to really settle into their roles," said Oestreich.
 Beyond the surface level meaning of the performance, it is meant to show the audience that although they may not be able to physically be with their friends and loved ones at the moment, there are ways to break the barrier in non-traditional ways, such as playing Dungeons and Dragons. It's a subtle reminder that even when life seems lonely, connecting and having fun with peers is as simple as logging online, at least until the tangible dice can be pulled back out to play in person. 
"We all have learned that life can come to a screeching halt at moment's notice, thanks to the pandemic, and this play makes us confront that we can't take the important people in our lives for granted, using the awesome backdrop of Dungeons & Dragons. For many people, myself included, Dungeons & Dragons created a way for people to stay connected while being forced to stay physically apart. I think it was the perfect play to do right now," said Director Sarah Griffin.