Swim & dive looks to rise up
MVP Q&A Swimmer Hunter Hayberger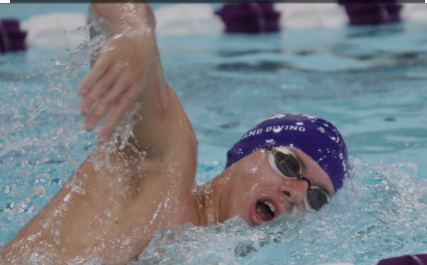 UW-Whitewater Swim & Dive has a roster of 18, a whopping nine of those are freshmen. With so much inexperience on the team the need for strong leadership is of utmost importance.
Enter Hunter Hayberger. A junior on the team who had three top six finishes at the WIAC meet last season. He is a captain and is looking to help install a more competitive legacy in the Swim & Dive program.
Q: Reflect on your success last season of having three top six finishes in the WIAC.
A: It was a pretty good meet, my best times in the 200 free and the mile. I didn't PR in the 500 but I still placed pretty well. Ideally it wasn't the perfect meet but it was still a pretty good one. For the fact it was my first WIAC Championship as a sophomore, take some lessons learned to move into this year, and hopefully I can improve on that.
Q: How has the team felt in practice as you prepare for the first meet?
A: It has felt pretty good, we almost doubled in size because our freshman class is really large. They're really young but they're really fast too so I think the next four years are looking really promising if we can keep this up. It has felt really good, I'm excited to see what we can do.
Q: Have you taken on a leadership or mentoring role for all the younger swimmers?
A: As a captain we want to provide the freshmen something that we didn't get our freshman year because of COVID. We want to make sure that we can make their transition into college swimming as seamless as possible. Whether that be the little stuff like morning practice or balancing classes, you know. Ethan, the other captain, and I, and especially the women's captains too, we want to try to help all the freshmen move into college as best we can.
Q: What goals do you have for the team?
A: The team last year we got a pretty solid fourth place, we didn't get last like Oshkosh. We weren't really competing with the top three yet but I think this year with the amount of new talent we have incoming I think we can really compete for that third place spot. La Crosse was third so we hope to compete well with them.
Q: What does it mean to you to be a Warhawk?
A: I feel like a lot of people overlook us sometimes, because we're kind of a smaller city and haven't been known for swimming in the past couple of years. But I think that is going to change soon, I think we could be a pretty big threat in the WIAC. I'm proud to see, it may not be this year or next year we make any big waves but I can see in the next five to ten years that we're going to be great and it feels really good and special to be a part of something that's bigger than you in the future.
Hayberger and the Warhawks are looking to start making a big splash in the WIAC this year and the first steps to that are performing well before opening conference meets. They will travel to Milwaukee for the Wisconsin Invite Saturday Oct. 22 to compete against various teams.