BeLEAFing in sustainability
UW-Whitewater Sustainability Office hosts a Fall Festival
Autumn leaves will be falling no more in a few short weeks. But organizations on campus still see time in this season to celebrate. Several came together on Nov. 8 to do just that. 
The UW-Whitewater Sustainability Office hosted its annual fall event where students came to smash pumpkins, win prizes, and learn how they can be sustainable in their day-to-day lives. This year the office decided it wanted to lump together several past fall events into the 2023 Fall Fest.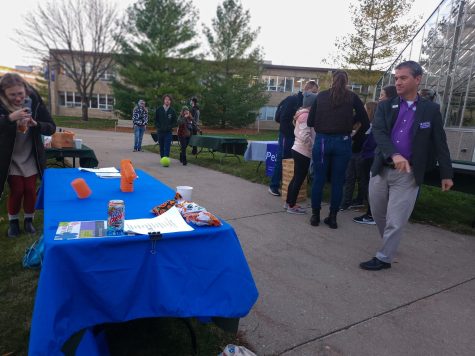 "This year we decided to push together our Harvest Party – which signifies the end of the growing season in the garden – and Pumpkin Smash. It ended up being a lot bigger than we anticipated. We just kept having people wanting to participate and table. We included the community in this event too," said the UWW Sustainability Office's Engagement Intern, Caroline French. 
The annual Pumpkin Smash was a highlighted activity at Fall Fest. Students were encouraged to bring their own pumpkins from Halloween to give them a new life. French mentioned that most people don't know a whole pumpkin is compostable. The goal of smashing them is to avoid pumpkins rotting in a landfill. 
French said, "What we do with our pumpkins and pumpkin seeds every year is we throw them in the compost behind the Garden Center. Then we use that soil for our garden every year. So we smash them up, making it a little easier for them to decompose. It ends up being a fun stress reliever."
Fall Fest was hosted at the Wyman Hall, next to the Campus Greenhouse. UWW PEACE, Active Minds, and Garden Club were just a few of the represented organizations. 
"I think it's really cool that a bunch of clubs can get together, and celebrate the end of Fall," said Social Media Coordinator of Garden Club Callie Broaddrick, "We collaborate with the Sustainability Office pretty often. We're like sister clubs. We participate in a lot of their events. We like to support the Sustainability Office as much as we can."
Each organization hosted an activity at its table. SAGE hosted a life-size version of Jenga, PEACE had students guess the amount of candy corn in a jar, and UWW Dining Services served cookies and hot chocolate. Alongside activities, tabling at the event gave each organization an opportunity to promote itself.  
"After Covid happened, Garden Club took a hit in our numbers; so we're trying to build awareness and our numbers. Also, we want to let people know Garden Club puts on events for people and that they can come to them. You don't have to join the club or do anything specific to participate," said Broaddrick.
With a larger turnout than expected, UWW's Sustainability Office can cross off a successful event this semester. Whether it be smashing your pumpkin, picking up litter, or fighting for climate change regulations; the office hopes to show students that they can make an environmental difference. 
"My goal of these events is to have students understand that there are ways to be sustainable on campus – no matter how young you are, no matter how many resources you have," said French.