Whitewater High School performs beloved Disney classic
John Leahey, Assistant Arts & Rec Editor
November 20, 2022
Just a couple days before the animated film's 31st anniversary, the WHS Players presented Disney's "Beauty and the Beast" at the Whitewater High School Auditorium November 17 through November 20.
Directed by Jim McCulloch, the young students truly brought to life the iconic story.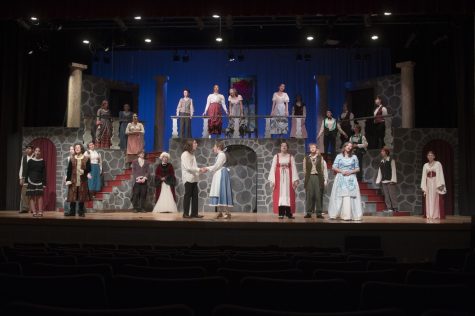 "We wanted something big and splashy," said McCulloch. "We haven't done anything big for a while…and it's a great, challenging piece for the students that we have."
The memorable songs and impressive dance numbers were accompanied by a live pit orchestral performance led by musical director Liz Elliott.
"This is the first year we've tried our pit orchestra," said Elliott. "We don't have an official pit built into the auditorium, so we tried it up front this year, and we created our own pit boundaries. I feel like with the sound engineer it worked really well."
The play tells the story of Belle, a young french village girl imprisoned by a hideous beast who tries to find true love in order to break the curse that gives him his terrifying appearance.
The cast serenaded the audience through song and dance to tell the charming story many Disney fans hold near and dear. The cast also displayed a very strong and entertaining chemistry with each other: Belle and the Beast's mistrust of one another felt nuanced and realistic, making the development of their relationship all the more rewarding to viewers. Gaston and LeFou played off each other quite well, giving the antagonistic duo their signature comedic flair. And the constant bickering between Cogsworth and Lumiere evoked consistent laughter from the audience.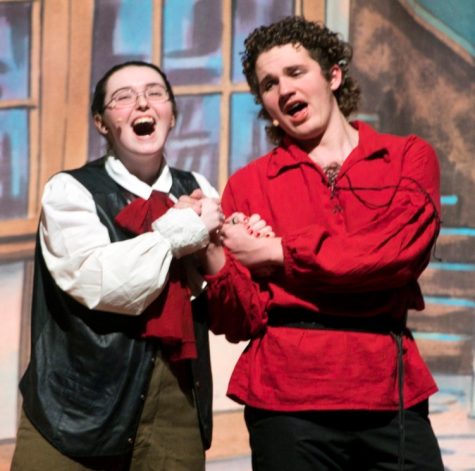 The production was not without its obstacles, however. Many of the actors fell ill before the show was set to perform. WHS senior Skylar Staebler, who played Belle in the production, showed symptoms of the flu as little as a week before opening night.
"I was really scared my voice was not where it should have been," said Staebler. "I've been drinking tea, ginger, every home remedy you can to try and get your voice back, and by [the day before opening night] it came back, so I was really excited about that."
Despite issues with sickness, the WHS Players still put on a formidable performance. In fact, the production will be participating in the Madison Overture Center's Jerry Awards competition, a statewide, Oscar-style award program which seeks to "encourage, recognize, and honor excellence in high school musical theater."
And excellence there was in this show. The cast and crew demonstrated commitment to, as well as great enjoyment of their craft.
"For those out there who just want to have fun, I'd recommend doing [theater]," said Josh Kirley, another WHS senior who played the show's titular Beast. "It is so much fun, you will have the time of your life, and you'll make so many friends."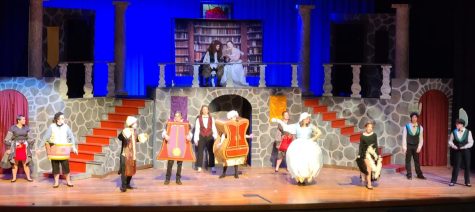 It was splendid to see the crew passionate about the production as well. When asked for her favorite aspect of the show, Elliott said she "loves the large dance numbers and musical numbers, because there's so much energy and enthusiasm, and camaraderie. [We're] working together and really getting something accomplished."
The WHS Players production of "Beauty and the Beast" was a fun, nostalgic, and memorable performance. Any fan of the original animated success was sure to have enjoyed their time with this faithful thespian rendition. Who doesn't love a touching, thought-provoking love story that challenges viewers to judge people based on the content of their character?
"There's so many beautiful moments throughout the whole thing," said McCulloch. "The plot itself is just a really good, beautiful story."