Sustainability Office hosts clothes swap
Secondhand shopping continues to rise in popularity throughout the United States as a plentitude of individuals are deciding to ditch fast fashion and look to more alternative ways to stay stylish without breaking the bank or damaging the planet further.
During peak academic hours the UW-Whitewater Sustainability Office held their second ever clothes swap in the University Center's Hamilton Room. The April 19 event included over a dozen tables overflowing with clothing of different sizes and variety.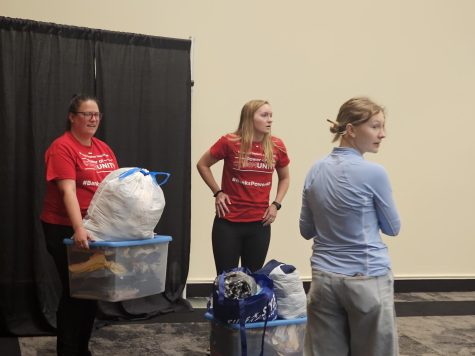 "This clothing swap event was really popular last year. There is always a lot of interest in these types of events," said sustainability director Wes Enterline. "Obviously being able to freshen up your wardrobe without spending any money is always an interest to college students. The thrifting part of it keeps these clothes out of the waste stream so we can get more life out of them. It works a little better to have this more personal exchange, rather than throwing everything in a goodwill bin hoping that it gets a second life. We'll do our best to make sure it does."
There was a steady stream of students donating and thrifting throughout the event. Multiple students left satisfied with tote bags filed to the brim with thrifted goodies.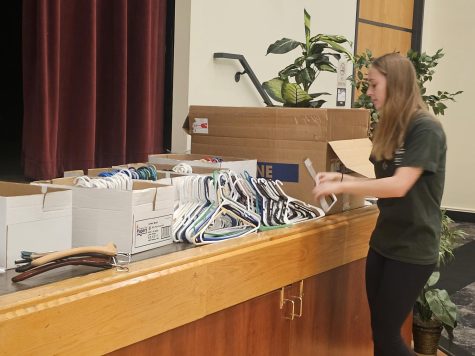 "I donated three pairs of pants and a shirt that I no longer wear anymore," said freshman music major Hannah Frohne. "I actually work at a non-profit thrift store already back in my hometown. Fast fashion is just not my thing. I think it is more beneficial to get clothes someone has worn like three times that I could easily wear twenty more times."
Students who participate and help coordinate these types of events are often more than not passionate about sustainability themselves or at least conscious of the effects they have on the environment.
"I work for the Sustainability Office so this is my shift period but I also really enjoy running Earth month events. It's my favorite part of the office," said sustainability intern Charles Lestan, "I have always had a passion for sustainability and I have always wanted to be more on the green side of things. That was the main reason I interviewed to get this position and I have been working for a year and a half now. Each Earth month I've done has been fun. That's why I kept the internship throughout my school year here. I hope sustainability gets implemented in every field, not just the science fields. I also hope to see more turn out for all the events we do and to see more people knowledgeable about it."
Events like these are not difficult to encounter throughout the year as UW-Whitewater is known for its green thumb.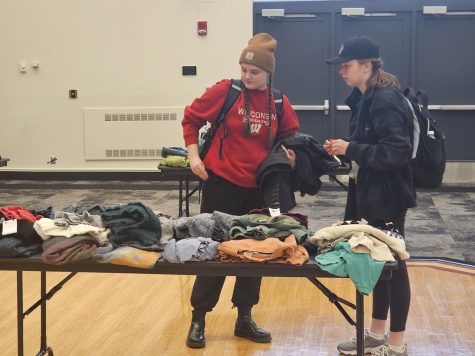 "I believe we'll try to run this every year for Earth week," said Enterline. "I know there have been student organizations such as S.A.G.E.,  Students Allied for a Green Earth, that have done clothing swaps in the fall semester but if we make ours a regular thing in spring semester than it's a good time of year to change out your wardrobe and donate some winter clothing that you no longer need."
The sustainability office continues to work hard to create events such as these so students can continue to be environmentally conscious with their time on campus.