New emergency care kits to keep campus prepared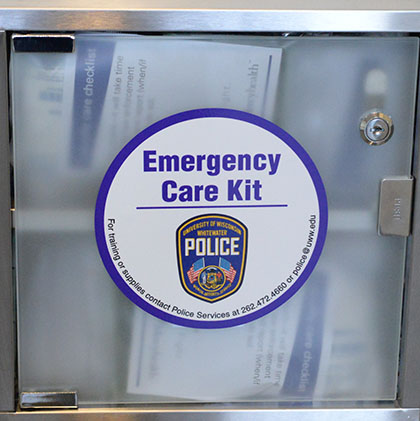 A recent shooting at a Florida high school that left 17 people dead is sending shockwaves through the country.
Should an emergency situation break out here at the University of Wisconsin-Whitewater, a recent addition to campus is designed to help. Emergency care kits were installed earlier this month across campus buildings by UW-W Police Services to provide campus withe emergency response units.
"In the event that we have a traumatic event such as an active shooter or a tornado knocks down a building, they contain the life saving objects one might need to stop someone from bleeding out," Chief of Police Matthew Kiederlen said.
The kits contain compresses, bandages, tourniquets, gloves and a variety of tools. Kiederlen said the kits were installed because the police department is constantly looking to improve their ability to respond to emergencies, and this gives both the department and people on campus another resource.
"The first people at the scene will be the uninjured bystanders. It never hurts to be prepared," Kiederlen said. "I would rather be on the side of precaution and preparation than just think that the odds are we won't ever have to deal with it."
Senior Ryan Kohl said he was disappointed when he heard the news of the Florida shooting, but he was happy to learn that the university recently took proactive steps to handle a similar situation here.
"I was really sad and surprised when I heard about the shooting. I felt really bad," Kohl said. "I think it's great that the university has the kits. I think it's a great thing to have in place if, god forbid, something like that were to happen."
Whitewater Student Government president Tom Kind said he was also glad to hear about the kits, and he added that student government is preparing their own projects and initiatives to help as well.
"I think the kits are a fantastic initiative. If you don't have to do it with legislation, it's better to do things through conversation," Kind said.
WSG is manufacturing magnets that list resources for students in emergency situations and has plans for other emergency projects in the future.
"Solving things in a local way is a big thing. Anything that we can do to help support the police department, we want to do it," Kind said. "In the event that an emergency happens, we want to be sure that we are prepared."
All members of the campus police department are trained in tactical response and active shooter situations.
The department also offers training for any faculty or students who may want to be trained for emergency situations. The department is currently working on a mandatory training session for faculty in the near future for these types of situations.
"We want to make sure that people know the basic concept of 'run, hide or fight,'" Kiederlen said. "If you can, run. If you can't run, then you should barricade yourself in and hide. Heaven forbid, if all that's left to do is fight for your life, then that's the final step."
While the kits are a good step in the right direction, Kiederlen said the department is always open to discussion and suggestions.
"If anyone wants more information or training or they have ideas or concerns with emergency management on campus, please reach out. We can't do this by ourselves."