The cosmic mythology of Wisconsin
This past Monday, Fairhaven brought in John Pruitt, an English professor at the UW-Whitewater Rock, for their series. UW-Whitewate at Rock County professor John Pruit amused audiences about cosmic mythology and Wisconsin Monday, Sept. 26 at a Fairhaven Senior Services lecture about August Derleth. Derleth is a Wisconsin author who wrote over two hundred books and short stories in his lifetime.
Derleth is best known for his contributions to the H.P. Lovecraft writings of "cosmic mythology." With contributions to the Lovecraft mythology such as Arkham House, which really brought Lovecraft to life, Derleth was one of the top writers for this genre. With stories such as The Trail of Cthulhu and The Lurker at the Threshold, Derleth brought this genre to life.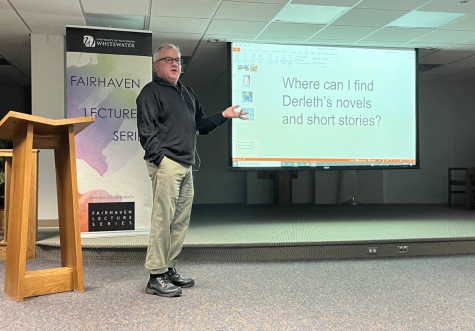 "[Derleth] is important because of his link to Lovecraft," said Professor Pruitt. "Because Lovecraft is such an enduring mythology, and the way that Derleth has continued to revise what he did, I feel like it is an interesting way of looking at our society through the lens of that cosmic mythology."
Derleth also authored books and short stories on the landscape of Wisconsin. His books in the Sac Prairie Saga, a series with all genres of books all about Wisconsin, became some of his best writings. With books such as Walden West and Return to Walden West, Derleth brings out the beauty in Wisconsin and the Midwest. Even though these are his lesser-known writings, they are still very important.
"The state is full of influential people and picking an author like August Derleth helps people see a different side of him," said organizer Kari Borne. "He might be well known for a certain kind of writing, so I think this is a way for people to see the less well-known things."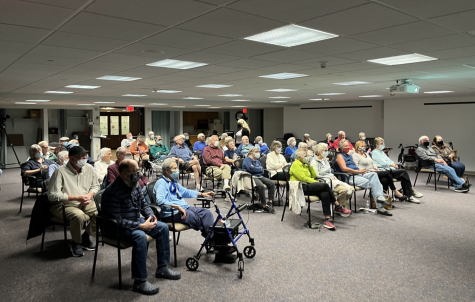 August Derleth was an important figure in H.P. Lovecraft's cosmic mythology. He was able to bring the series to life through the Arkham House, and even wrote his own books. Along with his contributions to this genre, he wrote a lot about Wisconsin itself in his series the Sac Prairie Saga. Overall, August Derleth is a Wisconsin figure everyone should read about, and Fairhaven did an excellent job choosing him, along with Professor John Pruitt talking about him.
To learn more about August Derleth visit the August Derleth Society website at augustderleth.org.