Love at first sight
The Department of Theatre and Dance presents the "Perfect Wedding." The Barnett Theatre had showings of the production from Oct. 11 through Oct. 16, 2022. With a cast of only six characters, this fun, lighthearted, comedic play brought lots of smiles and laughs to the audience.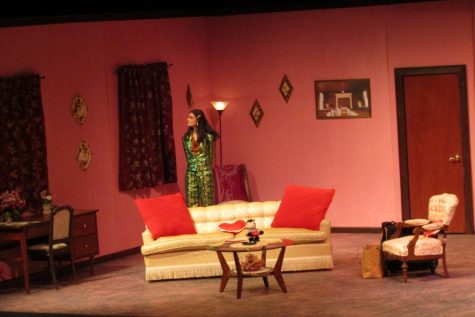 On the morning of his wedding, Bill wakes up with no memory of the night before his big day, and with a big problem in his bed. An unknown woman stayed the night in the honeymoon suite with him, and he needs to find a way to get her out before his wife-to-be sees the mistress.
"Perfect Wedding is about a fiance, Bill, waking up on the morning of his wedding day with a terrible hangover and an unknown woman lying next to him in the honeymoon suite bed," Assistant Stage Manager Kemi Ajao said. "Feeling the pressure, Bill must either get the mystery woman out of the suite or create a believable story his mother-in-law and fiancee, Rachel, would buy. These antics create a hysterical farce of a love story gone wrong."
The chaos that ensues once people begin arriving at the hotel before Bill can get this mystery woman out makes for an entertaining, nail-biting show that will have the audience constantly wondering what will come next.
"My favorite character was the best man," Junior marketing major Jakub Maciorowski said. "My favorite scene was when the best man and the maid were having a conversation and the best man thought that's who the husband slept with. Come see the play, it is a funny and suspenseful play."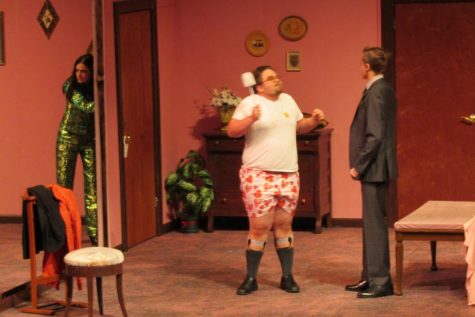 This show had its debut in 1997 with the Peninsula Players, directed by James B. McKenzie has since been produced in theaters around the country.
"My favorite aspect was the acting, it was so well played it felt like I was watching a professional movie," Sophomore elementary education major Kiara McKowen said. "Go see it and be ready to laugh!"
The production was a big hit for the Department of Theatre and Dance. The next production is 
"Come see any future shows Whitewater Theatre Department produces," Ajao said. "There's a world of plays that could be produced in which one hasn't heard of. One might pique your interest or even become a favorite, but you'll never know [unless] you come out and see it. Considering that, I urge you to come watch future productions our department offers."
The production was a big hit for the Department of Theatre and Dance. The next production at the Barnett Theatre will be "Pirates of Penzance by W.S. Gilbert and Arthur Gilbert," produced by Sara J. Griffin. The show will be from Feb. 14 to Feb. 19, 2022. Other shows including "Grounded" by George Brant, "Macbeth" by William Shakespeare, and "DanceScapes '23" will be shown in Barnett Theatre and Hicklin Studio Theatre this year. For information on upcoming productions as well as audition dates and workshops visit https://www.uww.edu/coac/academics/theatre-dance#productionsauditionsworkshops.