US falls short in supporting new mothers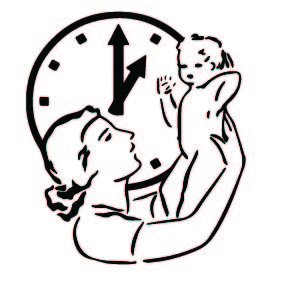 Imagine going through nine months of carrying and growing a human baby inside of your body, going through hours of intense and difficult pain and stress from delivering that baby or having to go through major surgery such as a cesarean section, and then having to go back to work in a few days because otherwise you would lose your job.
For some readers, this may not be difficult to imagine at all — because you've been in that exact situation. For others, it might never have occurred to think about what happens to mothers postpartum.
Carrying and delivering a baby is no small feat and requires serious recovery, both mentally and physically. This doesn't even account for the major life change of suddenly becoming a parent to a new child, whether it's the mother's first child or not.
Mothers need and deserve government-mandated paid maternity leave for at least six months, because mothers should not have to choose between their baby and their financial support.
Just shy of 50 percent of American families with two parents have both parents working full-time, according to a 2016 report published by Pew Research Center. Obviously, in single-parent households, that parent experiences the sole burden of financial responsibility. This is not a rare occurrence. This is why most industrialized nations have committed to providing paid, guaranteed maternity leave.
Out of 41 countries that fall into the industrialized nation category (Organization for Economic Cooperation and Development), the United States is the only nation that does not mandate employers to grant paid maternity leave. Not only does the United States not require it, but the country doesn't even mandate guaranteed unpaid time off for postpartum mothers. Culturally, this puts the United States behind other industrialized nations in supporting families.
There are also scientifically-backed reasons why the United States should mandate paid maternity leave for working mothers for six months. If a mother stays home with her child for 30 weeks, the likelihood that the child will die as an infant decreases by seven to nine percent. A mother staying home also promotes and supports breastfeeding, which is commonly understood as being healthier and cheaper for both the mother and child.
The mother staying home with the child also takes away the need for the mother to find childcare in a society where childcare is quickly becoming more expensive. Mothers shouldn't have to place their newborn in the care of someone unless they choose to do so without the pressure of financial stress. Maternity leave also lessens postpartum depression and its symptoms, particularly if it is six months or longer, says S.B. Jones in a 2013 study.
The policymakers for the United States need to know that citizens are passionately awaiting this government-mandated benefit. If you are outraged by the lack of family support on behalf of the government and employers, call your state's congressional representatives to let legislators know. Write articles, post on social media and vote for candidates who support mothers and family values.
Supported children and mothers only better society, and a working mother that feels cared for is a far better worker than someone who is frazzled, stressed, and separated from her child for reasons out of her control. The United States needs to put families first and mandate paid maternity leave for a bare minimum of six months because after carrying and delivering a baby, mothers deserve employer and governmental support and financial stress reduced.
— Louisa Fredriksson
UW-Whitewater junior