Stay thankful this holiday season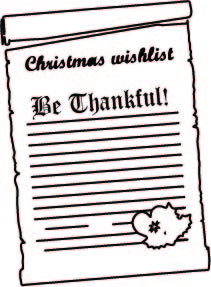 We love Thanksgiving here at the Royal Purple.
The holiday means good food with people we love, and it also serves as a reminder that through all the crazy, stressful things that happen in life, there is still plenty to be thankful for.
Let's make sure that thankfulness doesn't end in the last week of November each year.
It's interesting to think that we as a society go straight from the holiday of being thankful to the holiday of wish lists, spending tons of money and Black Friday horror stories.
We spend a Thursday in November reflecting on all of the things in our lives we love and appreciate, reminding ourselves we should be more thankful. Then we turn it around in less than 24 hours to running through crowds of people, pushing and shoving to get the latest deal for Black Friday. We follow it up by spending loads of money as a nation to make the people around us happy.
Let's focus on that goal of making people happy to better ourselves and the people around us. Let's be thankful and do things to make others thankful, too.
We love Christmas and all the positive cheer that comes with it. We love spending time with family and doing something nice for the people we care about through gifts.
But just because it's Christmas doesn't mean the thankfulness should end. If you're crafting your infamous list this merry season, remember to be thankful for the things you already have.
More importantly, remember to be thankful for the people around you who helped make it all possible. Get out this holiday season and help others if you can.
Ring bells for the Salvation Army, or donate old stuffed animals to a local hospital to kids who will wait for Santa from a hospital bed. There are plenty of positive ways to celebrate Christmas other than making a wishlist and opening presents.
Here at the Royal Purple, we're thankful for all of you. Although Thanksgiving is over, we are always thankful for your readership, your ability to work with us when putting stories together, and most of all, we're thankful for the opportunity to tell those stories to you.
Happy Holidays from the RP.