Modified fall farmer's market
The main driver of the Whitewater City Market is community. It brings the community together. It creates an intimate feeling even within a large open space. A yearly tradition, both citizens and students alike would happily gather at the market on Tuesday evenings to listen to live music, chat with vendors, and mix with each other to create connections. 
Covid-19 has only made the resolve stronger to create that tight community, especially ensuring the safety of both the shoppers and the vendors. Masks are required at the market, as well as arrows directing shoppers through different vendors, following the guidelines of the Center for Disease Control and Prevention. 
"For covid, we now operate at half capacity, so it looks a bit more empty, because we are keeping an empty space between each one of those booths just for safety purposes. We don't have as many of the craft vendors as we normally would. We don't have the live music. We needed it to become more transactional," said Lisa Dawsey, co-manager of the market. 
The safety of both shoppers and vendors was a main concern with the market this year to ensure the city was able to keep it going in these tumultuous times. Dawsey is Board Chair of Downtown Whitewater and describes herself as a full-time volunteer. She enforces the guidelines and helps vendors navigate the new normal. 
"I actually have caution tape I have to use now. It's to keep people from coming too close, and unfortunately they aren't able to touch the soap anymore," said Soap of the Earth vendor Jessi Hebert."You want to be able to feel and smell the soap, so it gets a little hard sometimes. Some days are faster than others, it really just depends."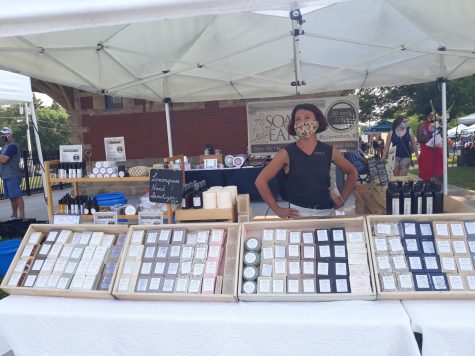 The market will maintain the new protocols until it can safely reintroduce the features that created more of an intimate feeling among the community. Yet even with the more transactional market feel, co-manager Kristine Zaballos continues to make sure the city will continue to be able to have that 'family' focus.
"The outdoor market is all about smiles. We want to be able to keep people feeling connected to the market. We want people to feel happy to be there, even with everything that's going on," Zaballos said. "The city has been one of strongest connections, and our biggest supporter. Initially when we opened there was some criticism, but we worked with the city to have a solid plan to operate safely."
Zaballos thanks both the city and the police, emphasizing it's all about collaboration and continuing to work together.
"We especially want to have a big outreach eventually to essentially reintroduce ourselves to the student community at UW-Whitewater. Some of the things that would initially draw them in we don't have anymore, so reaching out to them and having them still mix with us is so important to that community."
The market continues to sell items like honey, jam, salsa, bread, fruit, vegetables, coffee and more every week through October. Community and campus members are invited to safely join the Whitewater City Market Tuesdays from 4-7 p.m. More information on the City Market and their safety protocols can be found on https://www.downtownwhitewater.com/