UW-Whitewater celebrates Black History Month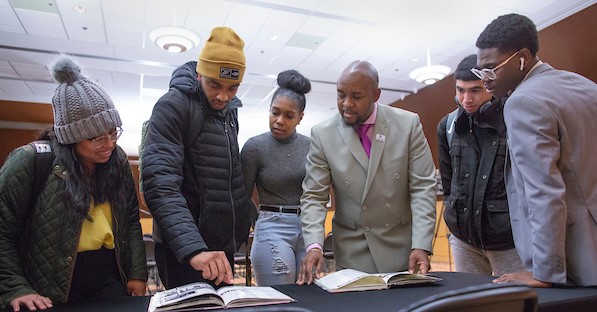 UW-Whitewater pauses to pay tribute and recognition to the national observance of Black History Month. The origins of Black History Month stem from the work of historian and scholar, Dr. Carter G. Woodson in the creation of recognition of the contributions that African-Americans made to the United States. Dr. Woodson proposed and created Negro History Week in 1926, which was the impetus for this celebratory month. Dr. Woodson chose February to honor two great Americans who played a prominent role in shaping Black History, Abraham Lincoln and Frederick Douglass. For decades, countless organizations petitioned to turn Negro History Week into Black History Month. In 1976, President Gerald Ford decreed Black History Month a national observance.  
UW-Whitewater continues to honor the legacy, contributions and scholarship that African-Americans have contributed not only to the greater American landscape, but also here at the university. In recognition, we would like to yield our respect and gratitude for two African-American Warhawks who made renowned contributions to our campus, Dr. Fannie Hicklin (1918-2019) and Dr. Roger Pulliam, who passed away in 2020. The university continues to memorialize and commemorate the work that these two trail-blazers rendered to our university.
As we pause to reflect, let us remember there is still much work to be done. In the words Lift Every Voice and Sing (By J. Rosamond Johnson and James Weldon Johnson), denotes:
"Stony the road we trod
Bitter the chastening rod
Felt in the days when hope unborn had died
Yet with a steady beat
Have not our weary feet
Come to the place for which our father signed?
We have come over a way that with tears has been watered
We have come, treading our path through the blood of the slaughtered
Out of our gloomy past
Till not we stand at last
Where the white gleam of our bright start is cast."
Kenny E. Yarbrough
Associate Vice Chancellor for Equity, Diversity, Inclusion and Support Programs