Welcome to Whitewater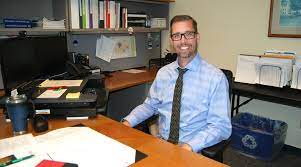 My name is John Weidl and I am the Interim City Manager of the City of Whitewater. I want to welcome all students, faculty, staff, family and friends to Whitewater as you embark on the new semester and for many of you, a new chapter of your life.
Also new to the community, I recently joined the City of Whitewater as the Interim City Manager in July of this year through November 2022. I am a military combat veteran as a member of the United States Air Force (USAF) with tours of duty in Europe and Middle East, including joint combat service with the United States Army. I graduated from Northern Illinois University with an M.P.A. in City Management and Urban Policy.
Proudly, my experience with Biennial Budgeting and Business Recruitment/Expansion in the Village of Mukwonago has earned multiple awards from the Wisconsin City Managers Association (WCMA) and the International Economic Development Corporation (IEDC). Having over 10 years of local government experience, including economic development experience, I am excited to bring my skills to the City of Whitewater. My leadership and knowledge in Tax Increment Financing (TIF) creation, small business development, business recruitment, market analysis, and strategy development will truly benefit this community.
I look forward to working with you to continue the great momentum of growth and energy Whitewater has to offer.