'The best decision I ever made'
It's been a crazy couple of years. I came into the University of Wisconsin-Whitewater two years ago not knowing a single soul. I was mainly online my first year, and wasn't involved on campus because I didn't live in the city. Starting this past year was just like starting at a completely new school. I found the Royal Purple, the ultimate frisbee team, and started to strengthen relationships with professors. 
Within the last two months of the school year, my plans have changed completely from moving back to my hometown in Minnesota, living with my dad and working my summer internship. I'm now staying in Whitewater to go on for my master's degree and becoming a graduate instructional assistant. I'm a sports journalist for the Edgerton Reporter, doing freelance writing for the Wisconsin Professional Ultimate Frisbee team and still also doing my summer internship.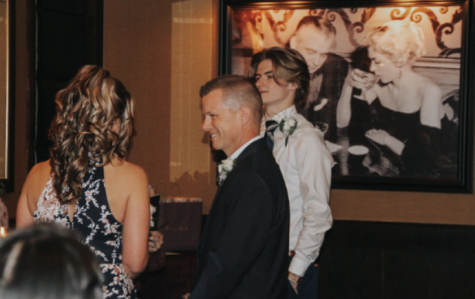 A majority of that has to do with Dr. Zukas. He had searched me out and personally recommended me for these programs – programs I didn't even know existed if he hadn't reached out. I want to personally thank him for giving me the opportunity and support of getting my master's degree, being a graduate instructional assistant and writing for the Edgerton newspaper. I wouldn't be writing freelance for the professional ultimate frisbee league if it weren't for the Royal Purple. Dr. Zukas has easily been my number one supporter and has been in my corner through it all despite only having known me for about a year and a half. 
To Dr. Zukas, thank you for everything. You have given me opportunities that I didn't even know were possible, and I won't take them for granted. 
I also would like to thank the Whitewater ultimate frisbee program, SubPar. This is where I found my closest friends.  This is where I found guys that will be a part of the rest of my life. 
If I were to suggest two programs to be a part of, it would SubPar and the Royal Purple. Both programs contain some of the most genuine, friendly and supporting people in the world. 
I also want to recognize that coming to an unknown school and area can be one of the most difficult things to do. The first suggestion I have is to join a club you enjoy. Common interests spark friendships, and that is key to keeping you sane throughout the rigor of college. Second, throw your hat in the ring in everything that comes your way. No one is going to get mad for you trying. You can pull that hat out, but you can't put it in the ring once it has passed. Third and finally, put everything you have into everything you do. You don't know who is watching. You don't know what opportunities are out there. Through my hard work at the Royal Purple, Dr. Zukas took notice and now I have all these incredible things coming my way because of it. 
That's how you are successful. My guitar teacher freshman year of high school had started off his first class by giving us his definition of success, and it has stuck with me ever since. Success is when opportunity meets preparedness. If you try hard and throw your hat in the ring, you will be successful. 
Looking back, coming to UW-W was the best decision I have ever made. To everyone I have encountered in the city of Whitewater, I thank you.