Most kids dream of becoming firefighters, ballerinas, policemen, teachers or doctors. They play pretend and envision what it would be like in the future. For most children, these dreams are slowly replaced with other aspirations as they grow older.
Not for Lacey Reichwald. Reichwald has wanted to own a coffee shop since she was 12 years old.
"I started collecting coffee mugs when I was younger, because I had this dream of a super eclectic coffee shop that I would someday own," Reichwald said. "My mom even took me down to what I think was city hall to register a name for a coffee shop, because I wanted it so badly."
Reichwald is living her dream. She is the owner and general manager of the SweetSpot, located in downtown Whitewater at 226 W. Whitewater St.
A sweet environment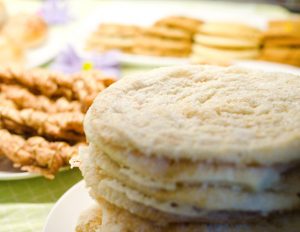 The SweetSpot uses a mixture of locally roasted coffee, baked pastries, an on-site bakery, a comfortable setting and a strong focus on bonding with every customer.
"A part of our philosophy is to treat all of our customers the same," Reichwald said. "I think that customers pick on that too. They feel welcome and can see everyone else is welcome here too."
Reichwald said a customer connection is their first priority.
"The SweetSpot prides itself on fostering an environment for both the community and the University," Reichwald said. "A focus of the employee is on this type of atmosphere and really connecting with the customer."
With all the responsibilities of owning a business, there is a lot more than a name and collection of coffee mugs.
Reichwald, her husband and daughter start each day by having breakfast at the coffee shop.
"The customers really enjoy that.  Those that have been coming here a long time knew me before I was pregnant, while I was and now see Althea growing up," Reichwald said.
The days consist of a combination of deliveries, catering events, paperwork, helping out behind the counter, dance practice for Althea, managing the food service at Whitewater Country Club, and making dinner.
"My days are always really all over the place," Reichwald said grinning.
A year ago, Reichwald said her days entailed 40 hours behind the counter. With each expansion, business has grown. At the last expansion, the addition of the bakery, business tripled.
Reichwald said she used to be able to work by herself from open to close and handle the customer flow. Now four to five people are needed around lunch time to handle customers coming through the door.
It was difficult to adjust to the increase of business and change of duties at first.
"It became about business and making sure we were serving people quickly and efficiently," Reichwald said. "I was really hands-on, but over the past year, I have staffed accordingly where I can now focus more on the management side."
While she has the benefit of flexibility as the owner, it also comes with other demands. She said there is no real divide between her work day and regular day.
"Owning the coffee shop isn't my job. It's just what I do with my life," Reichwald explained.
Reichwald does not have an office. She moves her computer out in the dining room and works next to customers.
"Customers know they can come and approach me, and I can get up and talk to them and am able to connect on a personal level," Reichwald said.
Reichwald also uses her degree in communication to manage all of the web development and social media.
A core goal of the SweetSpot is to bring people together.
"There are people that have lived here their whole life as well as college students, and there can be false stereotypes about both groups from each of them," Reichwald said. "At any given moment though, they are in this space together, and I just feel so much pride that that can happen."
Reichwald said she has a great mix of staff between students and non-students. It takes at least three months to become fully trained. This includes learning the art of espresso, knowing how to properly steam and pour milk, working towards latte art, cash handling, prepping and helping prepare food, stocking and cleaning.
Reichwald said she looks for employees who can reach out and have a personal connection, confidence, take initiative and are kind.
"The thing I've learned through doing this is that I can train just about anyone, but the one thing you can't train on is how to connect to customers," Reichwald said.
Starting the SweetSpot
The SweetSpot Coffee Shoppe was established in 2006 by sisters Linda and Lori Platner. Reichwald started working there in September 2006 as the first employee who was not related to the Platners. A year later, Reichwald became a business partner, and in December 2008, she purchased the SweetSpot.
After the purchase, Reichwald immediately began expanding.
"After we bought them out, we decided to grow. We expanded into the back room, added our lunch menu and really started to shift our focus toward bridging the community and college gap," Reichwald said.
She had recently graduated from University of Wisconsin-Whitewater and began reaching out to college students.
"I really wanted to foster and work on a community and school bond," she said.
In November 2011, a bakery was added. Reichwald's mother, Karen Moline, joined on as a professional baker and cake decorator.
The  SweetSpot is located in the historic Whitewater Hotel building. It was built in 1894 and restored in 2006. The SweetSpot occupies the first level, with apartments on the second and third levels.
Besides realizing her dream, Reichwald had another motive for buying the SweetSpot.
"I just fell in love with Whitewater," Reichwald said.  "I knew I wanted to stay here and it was a place I would want to raise a family so my decision was to buy the coffee shop and see what I could do with it."
Reichwald has an alliance with two other restaurant owners in Whitewater; Tyler Sailsbery, and Christ Christon. They own The Black Sheep and The Lakefront Pub, respectively.
All three graduated from University of Wisconsin-Whitewater and currently work together to put on events that reach out to the community and college.
Future ambitions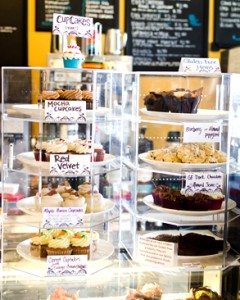 "Our biggest mission is to get young people to stay here," Reichwald said. "We've seen what a great impact it has when you go to school here, and then you invest in the community."
The future of the SweetSpot is open to new challenges and opportunities.
"As soon as the stress clears, I get bored and start planning the next stages," Reichwald said smiling.
Reichwald and her mother will attend an international baking conference in the fall and are thinking about possibly expanding internationally.
Recihwald said they also have thought of opening another smaller location closer to campus. It would serve coffee and pastries, focusing on the student population and quick service.
Reichwald said some people still come in and say they didn't realize that the SweetSpot was there. She said a lot can be contributed to students never heading downtown. She said there is so much downtown besides the SweetSpot that students could enjoy.
"A lot of times, I hear students complain that there's nothing to do in Whitewater, but I would really encourage them to walk around downtown," Reichwald said. "Get out and explore, meet people, and there's always something to do in Whitewater if you just look for it."